Mansour refused to condemn Syria's shelling of Lebanon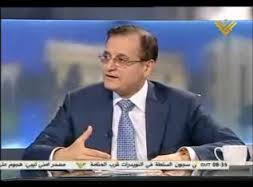 Caretaker Foreign Minister Adnan Mansour refused on Sunday to condemn the shelling of Lebanon by Syria and also refused to compare it to Israeli assaults against the country.
He told Voice of Lebanon radio (93.3) : "We should not compare Syria's actions towards Lebanon to Israeli assaults against the country."
He described the situation on the border as temporary.
"The developments along the border with Syria are temporary, while those with Israel stretch back across history," he said.
He called for creating a strong army "capable of deterring any Israeli assault. "
Mansour thanked Saudi Arabia for its $3 billion grant to the Lebanese army which President Michel Suleiman announced last December , saying: "The donation is dedicated to the whole of Lebanon and not one political camp against the other."
Asked if he thinks that Army Commander General Jean Kahwaji will run for president, he replied: "He represents a national institution that the Lebanese people look up to."
"Kahwaji is keen on Lebanon's sovereignty and stability," he noted.
"He assured the Lebanese people during his last speech that the army will remain the sole guarantor of peace should the presidential elections be postponed," the minister added.
Addressing the upcoming presidential elections, Mansour ruled out the possibility that Suleiman's term would be extended.
Suleiman's six-year term ends in May. He reportedly refused any extension to his term calling it unconstitutional. However, there are growing fears that the ongoing disputes between the March 8 and 14 camps will result in the postponement of the elections.
Lebanese areas bordering Syria have frequently come under shelling from the neighboring country as part of the ongoing conflict between the Damascus regime and rebels.
Mansour came under fire recently when he defended Hezbollah's role in Syria during his address at Syria peace summit in January, despite the fact that he was supposed to represent the government's dissociation policy as spelled out in the Baabda accord.
Many politicians have on several occasions described Mansour, who represents Speaker Nabih Berri in the cabinet as being "a Syrian Foreign Minister".
Thousands of Hezbollah fighters are helping the forces loyal to the Syrian regime of president Bashar al Assad in the war against the Sunni rebels who are trying to topple the regime, despite the fact that Hezbollah signed the Baabda declaration which calls for distancing Lebanon from the Syrian events.