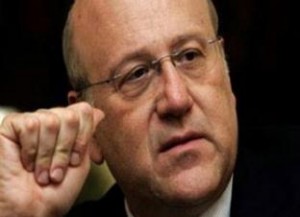 Lebanon's caretaker Prime Minister Najib Mikati commented on the upcoming presidential elections in Lebanon by stressing that the country needs a president with "vision for lebanon" and that he will exercise his parliamentary role . He called on all MPs to attend the parliamentary sessions.
"We need a president who has a vision for Lebanon." He told Al-Mayadeen on Friday.
President Michel Suleiman decided against any extensions to his term which will end in May.
Commenting on the war next door and Hezbollah role in assisting the Assad regime against the rebels he said that he opposed the intervention of any party in the Syrian conflict.
"I opposed the intervention of any Lebanese party in Syria. Lebanon disassociated itself from the Syrian situation but the Syrian crisis did not disassociate itself from Lebanon," Mikati told the pro Hezbollah and Syrian regime station.
Thousands of Shiite Hezbollah fighters are helping the forces loyal to Syrian president Bashar al Assad against the mostly Sunni rebels who are trying to topple the 40 year old dictatorship of the Assad clan.
Unfortunately for the country ever since Hezbollah leader Hassan Nasrallah decided to help the Syrian regime , Al Qaeda linked groups have become increasingly active in Lebanon. Hezbollah strongholds in Beirut and the Beqaa witnessed several suicide bombings within the last few months resulting in scores of deaths and injuries
Commenting on the situation in Tripoli, Mikati accused the media exaggerating some issues while ignoring other issues :
"The media is only highlighting certain cases and exaggerating them."
"The [conflict] in the city is a historical issue," he stressed, adding that "what is happening in Syria is having repercussions in Tripoli "
This error message is only visible to WordPress admins
Error: No connected account.
Please go to the Instagram Feed settings page to connect an account.