sinkhole swallows family car in UK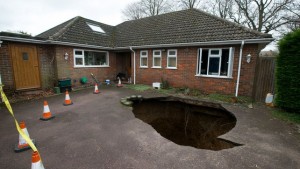 A family in Britain has described their shock at realizing a 30ft (9.15 m) – deep sinkhole had opened up in the driveway and swallowed their car.
Liz and Phil Conran's teenage daughter discovered the 15ft ( 4.57 m) -wide crater at the family home in Main Road, Walter's Ash, High Wycombe, Buckinghamshire.
Mrs Conran said her daughter went into hysterics on discovering her prized Volkswagen Lupo had disappeared into the ground.
"My daughter went to go and let her horses out because she was going off somewhere for the day and she had to drive up there, and she got herself all ready, got to the door, and saw her car wasn't there.
"She thought that was a bit weird. Of course, it was still fairly dark outside, so she went round to the kitchen window and then she saw the crater and just started screaming," she added.
RTE