3 arrested in connection with Choueifat suicide bombing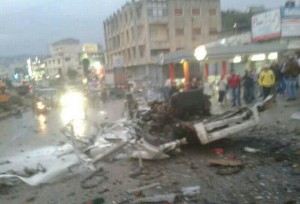 Lebanon's Military Court Judge Saqr Saqr ordered on Wednesday the arrest of three people in connection with the Choueifat suicide bombing and referred the three suspects to the Army Intelligence Directorate for further questioning, National News Agency reported.
One of the three unnamed suspects was the taxi driver who transported the suicide bomber to Choueifat where he detonated himself inside a passenger van that transports people from Choueifat area to Hezbollah's stronghold of Dhahieh, south of the capital Beirut.
The suicide bomber was the only one killed in the incident but two others were injured including the driver of the van.
An Islamist terrorist group suspected of links to al-Qaida declared Monday responsibility for the Choueifat suicide bombing .
Al-Nusra Front in Lebanon which is suspected of ties to the Syrian based Jabhat al Nusra, an Al Qaeda linked terrorist group claimed around midnight Monday responsibility for the bombing and said the attack targeted a Hezbollah checkpoint.
Monday's terror attack was the latest in a series of suicide bombings that have targeted Shiite-populated areas of Lebanon.