Russia says Syria to ship all chemical arms by March 1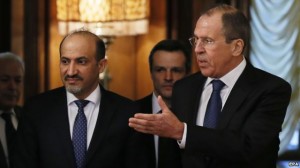 Russia said its ally Syria would soon ship more chemical weapons abroad for destruction after being accused of dragging its feet, while activists said civilians in Aleppo were fleeing deadly barrel bomb raids by President Bashar al-Assad's air force.
Moscow also said on Tuesday that the Syrian government would show up at a new round of peace talks next week, hoping to allay Western concerns over Assad's commitment to negotiations which ended inconclusively in Geneva last week.
The diplomatic assurances come as government forces escalate their assault on Syria's second city of Aleppo, using a near daily barrage of barrel bombs that some activists say is forcing residents to flee and slowly gaining ground for the president against rebel forces weakened by weeks of infighting.
While the fall of Aleppo is not seen as imminent, Assad is keen to control it, together with the capital Damascus and his heartland along the coast. But the rest of the country remains fragmented between rebel, Kurds and other armed groups.
Western analysts say Assad's use of indiscriminate weapons such as barrel bombs and his delaying the process of eliminating his chemical arsenal suggests he sees little prospect of the West taking meaningful action against him.
Reuters photographs showed streets packed with Aleppo residents carrying large packs as they fled the home-made barrel bombs – oil drums or cylinders packed with explosives and metal fragments.
Barrel bombs, cheap and easy to construct and usually dropped from helicopters, often kill dozens at a time. Activists say they are being used to push people from rebel-held areas into state-controlled parts of the city.
"In recent days the flight of civilians has intensified and the regime has made some small gains," said Rami Abdelrahman, head of the Syrian Observatory for Human Rights, a pro-opposition monitoring group.
"The main aid to their advance has been the rebel infighting."
CONFLICTING ACCOUNTS
The reported gains by Assad's forces are small. But if they build on them and take the rebel-held portion of Syria's former business hub, it would be a huge blow to the opposition, forcing it back into the northern and eastern countryside and leaving it without a major presence in either of the two biggest cities.
Other opposition sources deny government advances. Media access in Syria is severely limited by violence and government restrictions, making conflicting accounts difficult to verify.
Syria's civil war has killed more than 130,000 people and forced over 6 million from their homes.
Russia and the United States, aligned to Assad and the rebels respectively, have been deadlocked and unable to ease the violence. But they joined forces to launch the Geneva peace negotiations which began two weeks ago. The first round produced few results, but a second starts next week.
Preparations for the talks took place in tandem with a deal to remove Syria's chemical weapons, agreed a month after a poison gas attack in the Damascus suburbs on August 21 which killed hundreds. The deal allowed Assad to escape U.S.-led air strikes.
Syria has failed to meet its deadline to eliminate all chemical agents by next week, but Russia said the government would be able to complete the removal by March 1.
"Literally yesterday the Syrians announced that the removal of a large shipment of chemical substances is planned in February. They are ready to complete this process by March 1," said Russian Deputy Foreign Minister Gennady Gatilov, according to the state-run Russian news agency RIA.
CHEMICAL DELAY
The delay in removing chemical weapons has prompted Western criticism that Damascus was seeking to gain leverage during the peace talks. Russia says those concerns are overblown and rejects claims that the move is deliberate, while Syria has blamed security concerns for the delay.
Russia also hosted on Tuesday the leader of the opposition's National Coalition, Ahmad Jarba, for the first time since the three-year-old conflict began.
Jarba spoke positively despite Moscow's support for Assad. "We now have good relations with Russia," he said. "The Russian side now understands the position of our Coalition better."
Moscow wants to persuade the Coalition-led delegation at Geneva to include more moderate internal opposition groups, which rebels argue are Assad stooges.
Jarba excluded any groups that had been prepared "in the basements of the regime's security service". "There will be nobody in the opposition delegation to Geneva who is tied to the regime this way or another," he said.
On the ground in Syria, Assad's forces are pushing for gains in the north, where rebels hold large swathes of territory, and central Syria, which links to the capital Damascus and the president's stronghold on the coast.
Like many parts of Syria, Aleppo is divided between rebel and Assad forces in a stalemate that has lasted over a year, killing hundreds with little change in the balance of power.
But the rebel hold on Aleppo, Syria's largest city, has been weakened after an alliance of Islamist and secular rebel groups tried to force out a radical al Qaeda splinter group, the Islamic State of Iraq and the Levant (ISIL).
The infighting alone has killed more than 2,300 rebels in the past month.
"The regime advances are very small, but it seems they want to repeat the strategy used in the suburbs outside Damascus and Homs – they want to loop around the rebel areas and put them under siege," said one Aleppo activist, who asked not to be named because he said rebels were trying to suppress information about army advances.
Assad's forces have been using siege tactics, sometimes for months on end, to drain rebel held areas of food and supplies.
The Aleppo activist voiced frustration that Western powers, long wary of radical Islamists, had not come to help rebels now fighting both Assad and ISIL. "No one will help us. Aleppo has been home to civilizations for centuries and it's now being destroyed, stone by stone."
Retures
Photo: Russian Foreign Minister Sergei Lavrov (right) with the head of the Syrian National Coalition of Opposition and Revolutionary Forces, Ahmad al-Jarba, in Moscow on February 4.