Charbel denies Choueifat bomber affiliated with Assir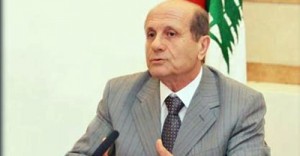 Lebanon Caretaker Interior Minister Marwan Charbel denied media reports claiming that the suicide bomber who attacked a van in Choueifat on Monday was affiliated with fugitive Sunni Salafist cleric Sheikh Ahmad al-Assir.
"Until now, there is no information to indicate the suicide bomber is one of Assir's supporters," Charbel told the Voice of Lebanon (100.5) radio station on Tuesday.
He stated that the security forces were still interrogating the taxi driver who drove the suicide bomber to Choueifat.
Charbel also said that the suicide bomber who targeted a gas station in Hermel on Saturday has not yet also been identified.
A suicide bomber detonated himself inside a passenger van in Choueifat on Monday , killing himself and injuring two others.
The white Hyundai van was headed towards the Shiite-populated suburb of Dahieh , a Hezbollah stronghold south of the capital Beirut, which has been the target of a terror campaign conducted by Al-Qaeda-linked groups.
An Islamist terrorist group suspected of links to al-Qaida declared Monday responsibility for the Choueifat suicide bombing .
Al-Nusra Front in Lebanon which is suspected of ties to the Syrian based Jabhat al Nusra, an Al Qaeda linked terrorist group claimed around midnight Monday responsibility for the bombing and said the attack targeted a Hezbollah checkpoint.
This development comes after al Nusra Front declared last Saturday responsibility for the deadly bombing in Hermel in which 4 people were killed and dozens were in injured.
The terror group declared last week that all the areas in Lebanon where the Iranian backed Shiite Hezbollah militant group operates are "legitimate targets" for attack and warned the Sunnis to avoid them.
"We, al-Nusra Front in Lebanon, announce that Iran's party (Hezbollah) and all its bases and strongholds are legitimate targets for us, wherever they are," the group said in a statement which was posted on the Internet on January 24, 2014.