Hezbollah's involvement in Syria is a sin: Shiite Cleric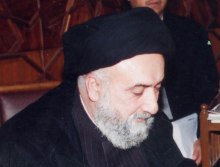 Sayyed Ali Al-Amin, former Mufti of Tyre and Mount Amel branded Hezbollah's involvement in the Syrian war as a sin.
"There is no doubt that Hezbollah's involvement in Syria was a big mistake, it is a sin," Amin said in an interview with Al-Arabiya television on Monday evening.
Amin also said that Hezbollah's military deployment alongside the Syrian regime was for political rather than sectarian purposes.
"The Shiite sect was not consulted about the involvement in the Syrian conflict, Hezbollah participated in the war from a political perspective and not from a sectarian one," he added.
The prominent Shiite cleric also accused Hezbollah of bringing strife and terrorism to Lebanon.
"The innocent citizens of Lebanon are paying the price of Hezbollah's involvement in the Syrian war," Amin said.
Shiite-populated areas in Lebanon have been targeted by a series of terror attacks since Hezbollah chief Hassan Nasrallah announced in May that his Shiite party was fighting alongside the forces loyal to the Assad regime in the Syrian civil war.
NOW