Brahimi's deputy quits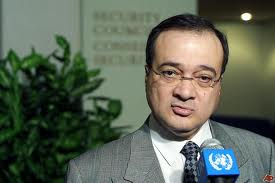 Nasser al-Kidwa, the deputy to international Syria mediator Lakhdar Brahimi, is stepping down.
United Nations spokesman Martin Nesirky said on Monday that Mr. al-Kidwa confirmed to Secretary-General Ban Ki-moon that he intends to leave his position as the deputy U.N. and Arab League special representative on Syria "effective this week."
The announcement follows the first round of talks between the Syrian government and rebel opposition in Geneva, which ended Friday with no tangible results.
Mr. Nesirky said Mr. al-Kidwa, a former Palestinian foreign minister and U.N. observer, told the secretary-general he is willing to serve the U.N. in other capacities.
Mr. Ban expressed his appreciation to Mr. al-Kidwa for his service under both Mr. Brahimi and his predecessor, former U.N. chief Kofi Annan, in trying to end the bloodshed in Syria and move toward a Syrian-led resolution.
WSJ