Rai prays to God to enlighten minds of Lebanese politicians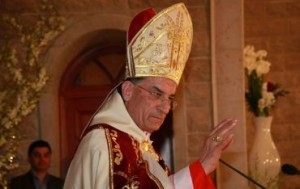 Maronite Patriarch Cardinal Mar Bechara Boutros al-Rai slammed on Sunday the bickering rival Lebanese politicians , held them responsible for the numerous explosions and security incidents plaguing the country and prayed to God to enlighten their minds.
"Political parties which refuse to reconcile with each other and understand one another , and those who are obstructing the formation of a new government and threatening or planning for presidential vacuum are responsible for all these crimes," Rai said during his Sunday Mass at the seat of the Maronite Patriarchate in Bkirki.
The purpose of the government should be to take of the human beings and not portfolios, he said in a veiled reference to Free Patriotic Movement leader Michel Aoun who has been dubbed as the last person standing behind the failure to form the cabinet.
Aoun has rejected a deal reached between rival parties on the rotation of portfolios in a 24-member cabinet based on the 8-8-8 formula.
"Let's pray that the Lord enlightens the minds of our officials so that we could overcome the crises," Rai said.
The Nusra Front in Lebanon claimed on Sunday responsibility for a deadly suicide car bombing in the northeastern town of Hermel a Hezbollah's stronghold near the Syrian border. Four people were reportedly killed and dozens injured
It said it was to punish Hezbollah for fighting alongside forces of Syrian President Bashar Assad.
It is the third bombing that the Nusra Front in Lebanon claimed responsibility for in the country.
Rai said it is the duty of the patriarchate to issue a national charter on the occasion of St. Maroun.
The document, which is expected to be issued following the monthly meeting of the council of Maronite bishops on Wednesday, holds onto the national principles and sets the priorities for a better future, the patriarch said.
The charter is based on three factors – national principles, concerns and priorities – Rai said earlier this week.
L