Several killed, injured in a car bomb explosion in Hermel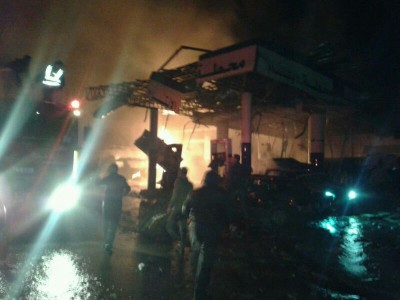 Al-Mayadeen TV reported that several were killed and injured when a booby-trapped car exploded near a gas station in the Bekaa town of Hermel .
National News Agency ( NNA) reported that the explosion occurred near al-Mabarrat school in the main road at the entrance to Hermel.
Hezbollah's Al-Manar reported that several people were either killed or wounded in the bombing that targeted the town of Hermel and many cars were set on fire when the gas storage tank at a nearby gas station exploded .
Lebanon TV station reported that 4 people were killed and more than 15 were injured.
Firefighters arrived at the scene and started extinguishing the raging fire.
The army arrived at the scene and cordoned the area . Theres is concern that other explosions could follow.
Three victims were identified
Ibtisam Mousawi , Ali Ilwah and Hassan Taha
Heath minister Ali Hassan Khalil who arrived at the scene confirmed that 3 people have ben killed and 28 were injured .
This is the second bombing in Hermel in 2 weeks .
Report of another bombing in Beirut was denied
Al-Manar said : " Reports about an explosion targeting Beirut's southern suburbs are not true."
Al-Mayadeen reported that the sound of an explosion that was heard in Beirut was a result of a stun grenade hurled in Tariq al-Jadideh.
MTV reported that the bomb used in the explosion today weighed anywhere between 20 to 3o Kg ( 44 to 66 lbs) .
Lebanese Caretaker Interior Marwan Charbel told Hezbollah's Al-Manar television that "initial information indicates that a suicide bomber detonated a Jeep Grand Cherokee."
"The security situation in the country is unstable and worsening day by day," Charbel added.
Al-Manar reported that " All witnesses at the scene of the explosion confirmed that a suicide bomber arrived at the site and blew himself up. "
The army is now trying to disperse those gathered in the area.
NNA reported that the driver of the Grand Cherokee car that exploded entered the gas station and asked to fill up his vehicle with and then the car exploded while he was inside it.
The deadly bombings in Beirut and the towns bordering with Syria are reportedly all tied to the raging civil war in Syria where Hezbollah is helping the Syrian regime in its fight against the Syrian rebels
Reaction to the explosion
PM-designate Tammam Salam described it as a cowardly act:
"This cowardly terrorist act must be a motivation for factions to adopt a united stand and block the road in front of sedition and to support the army and the security forces." He said
Former president Amine Gemayel said :
"We have to assume our responsibilities and what security bodies have achieved in uncovering perpetrators shows their capabilities."
PSP leader MP Walid Jumblatt said God knows what is next ;
"This is the second bombing in 2 weeks in Hermel . We all know this is related to the Syrian civil war and God knows what is coming next "
This is a breaking news
More to follow