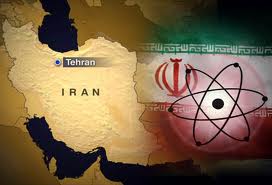 A founder of Iran's Revolutionary Guards (IRG) now admits that the Islamic Republic was seeking to acquire nuclear weapons. This is the first time any regime official has made such an admission, even as another report claims that one of Iran's most radical clerics was the spiritual overseer of the nuclear weapons program.

"We pursued ways in order to gain nuclear arms," Gen. Mohsen Rafiqdoost told the regime's Mehr News on Saturday. "I asked Imam [Ayatollah Ruhollah Khomeini] what his opinion was. He said do not pursue atoms, and we stopped."
But that claim falls short of the truth. In the late 1980s, a letter by Mohsen Rezaei, then the chief commander of the Guards, asking Khomeini, the founder of the Islamic Revolution, for approval of the nuclear bomb program was revealed. It showed the leader had approved of seeking nuclear weapons.
Rafiqdoost became the first minister of the Guards and was in charge of purchasing arms on the black market.
Iranian officials have for a long time denied that there ever was a nuclear bomb program and have consistently insisted that the country's nuclear program is for peaceful purposes to help feed its only existing nuclear power plant and ones the country plans to build.
This author, who spied for the CIA in the Revolutionary Guards, revealed in the book "A Time to Betray" that during the Iran-Iraq war in the 1980s, the Guards' intelligence division had received information that Iraq's Saddam Hussein was trying to acquire nuclear weapons. That's when Rezaei received Khomeini's approval to do likewise. Another Guard commander, Ali Shamkhani, then approached Abdul Qadeer Khan, the father of Pakistan's nuclear bomb, offering billions of dollars, which helped access the nuclear blueprint and Iran's first centrifuges.
After this revelation and publication of the book, the Islamic regime, through its daily paper Aftab, published an article about this author calling the revelations "a plot against the Islamic regime of Iran by the CIA." However, it refused to deny that the country was seeking nuclear bombs.
Two weeks later, Ali Akbar Velayati, the special adviser to the regime's new supreme leader, Ayatollah Ali Khamenei, said in an interview with the Iranian weekly Panjereh that Iran bought its first centrifuges from Pakistan in 1986 and then transported them in Khomeini's private jet.
By: Reza Kahlili
The Daily Caller
This error message is only visible to WordPress admins
Error: No connected account.
Please go to the Instagram Feed settings page to connect an account.