Brahimi: No miracle expected in Syria talks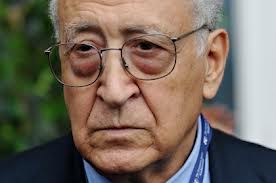 International mediator Lakhdar Brahimi said on Monday that the Syrian parties were still discussing how women and children can leave the Old City of Homs, but that there had been no decision on allowing access for an aid convoy into the besieged city.
Brahimi, addressing a news conference after meeting both sides, said that there was an apparent will to continue the negotiations, but he never expected any miracle to end the nearly three-year war.
"I told you yesterday that there was an agreement by the government that women and children can come out of Old City in Homs, I think they still discussing how that can be done. I think that the government is willing to make it happen, but it is not easy because there are snipers and there are all sorts of problems," Brahimi said.
He added: "Unfortunately there is no agreement on a ceasefire or the alleviation of the level of violence practiced in Syria."
Reuters