Al-Qaeda groups vow to continue attacks against Hezbollah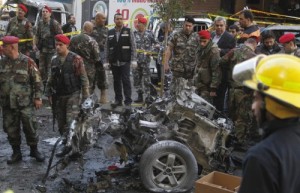 A day after Al-Nusra Front the Islamist terrorist group suspected of links to al-Qaida declared that all the areas in Lebanon where the Iranian backed Shiite Hezbollah militant group operates are "legitimate targets" it claimed responsibility for the rocket strike on the Beqaa town of Hermel, adding that it would continue to target Hezbollah until their demands are met.
"The Marwan Hadid Brigades of the Abdullah Azzam Brigades as well as the Al-Nusra Front in Lebanon [claim responsibility for] the bombing of Hermel with seven Grad rockets, [an attack] which achieved its goals," a statement issued Saturday on Twitter said.
The extremist group vowed to continue their operations against Hezbollah strongholds until they reach two goals.
The Marwan Hadid Brigades said that they aim to pressure Hezbollah into "withdrawing its fighters from Syria" and to "release the Sunni inmates from the unjust Lebanese prisons, especially the Roumieh prison."
Another Al-Qaeda-linked group also vowed to continue its string of operations against pro-Hezbollah areas.
"The Abdullah Azzam Brigades and the Al-Nusra Front in Lebanon announce the 'striking strongholds' series of operations [which] will target bastions of the Iranian party [Hezbollah] that is fighting our people in Syria and Lebanon."
Al-Nusra Front in Lebanon claimed responsibility for the Tuesday bombing in Dahiyeh's Haret al-Harayk that left four people dead as well as the deadly suicide car bomb attack in the northern Beqaa's Hermel last week.
The terror organization first announced its presence in Lebanon when it claimed responsibility for a rocket barrage on Hermel on December 17.
Days later, in an interview aired on Al-Jazeera, Al-Nusra Front leader Abou Mohammed al-Jawlani said that the group is active on Lebanese soil in order to help the Sunnis of the country face the "injustice" of Shiite Hezbollah.
Two other Al-Qaeda-linked groups have claimed responsibility for previous suicide bombings in Shiite-populated areas of Beirut.
The Islamic State in Iraq and al-Sham (ISIS) claimed responsibility for the January 2 suicide bombing in Beirut's southern suburb of Dahiyeh that killed four people.
Saturday's was the seventh in a string of attacks targeting Hezbollah strongholds in Lebanon since the Lebanese group acknowledged sending members into neighboring Syria to fight alongside President Bashar Assad's regime against the mostly Syrian rebels .
The war in Syria has inflamed sectarian tensions in Lebanon, with Hezbollah backing Assad's regime despite the Baabda declaration.
The Baabda Declaration is an agreement that was reached between Lebanon's opposing political leaders in 2012 which calls for distancing Lebanon from regional and international conflicts.
Photo: Lebanese soldiers examine a burnt car at the site of an explosion in the Haret Hreik area for which Al-Nusra Front the Islamist terrorist group suspected of links to al-Qaida claimed responsibility. January 21, 2014