32 presumed dead in Quebec seniors' home fire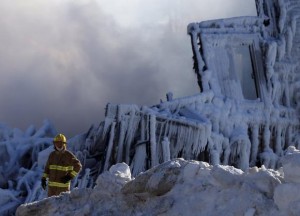 Thirty-two people died or are presumed to have died in the fire that swept through a retirement residence in the Canadian province of Quebec on Thursday, police said on Saturday. Eight bodies have been recovered.
"I think we can all agree here today, that the 24 people that are still missing – I think we can assume the worst, but you have to understand that we're not going to confirm any deaths until we've actually recovered the remains," police spokesman Guy Lapointe told a televised news conference in L'Isle-Verte, the village northeast of Quebec City where the home was located.
Photo: A firefighter looks on at the seniors residence Residence du Havre after a fire in L'Isle Verte, Quebec, January 23, 2014. Police will spend Thursday night sifting through the frozen ruins of a wooden, three-story residence for the elderly that burned down in the Eastern Canadian province of Quebec, killing at least three people and leaving 30 more missing. REUTERS/Mathieu Belanger (CANADA – Tags: DISASTER TPX IMAGES OF THE DAY)
Reuters