No more first ladies, says French president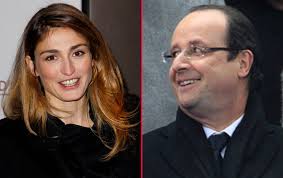 After the furore over his alleged affair with an actress, French President Francois Hollande wants "no more first ladies in the Elysee in future", it emerged on Monday.
Mr Hollande, 59, has so far made no official comment on whether France currently has a first lady since revelations 10 days ago that he has been having an affair with Julie Gayet, 41, to whom he paid frequent visits in a flat metres from the Elysee Palace.
He had promised to "clarify" the situation before a visit to the White House on February 11.
But according to Michael Darmon, a reporter with iTele, Mr Hollande made his views crystal clear in a chat with French journalists.
"Francois Hollande returned to the status of a potential first lady, saying, 'I don't want any more first ladies in the future at the Elysee'," Darmon said.
The reports came two days after Valerie Trierweiler, his official partner, was discharged from hospital and as the Socialist leader travelled alone to the Netherlands.
Ms Trierweiler, 48, was admitted to hospital after "taking one pill too many" the day France's Closer magazine published photographs it said proved Mr Hollande was leading a double life, and she remained there for eight days suffering from "extreme fatigue".
One of Mr Hollande's advisers told Le Figaro newspaper: "If there must be a split, it must be dignified and elegant regarding Valerie Trierweiler. And above all, Julie Gayet mustn't instantly move into the Elysee."
Elysee sources said that while Ms Trierweiler was keen on remaining a couple, the president's mind was made up and that he was "in negotiations, including legal ones" to end the relationship.
Across Europe, meanwhile, companies are drumming up business by having a laugh at Mr Hollande's expense.
A car-hire company, Drive, ran a newspaper ad with a map tracing the route from the Elysee to the apartment where Mr Hollande's trysts allegedly occurred – and pricing the trip at €5 ( $6.50)
"Unseen. Unknown. Private cars, tinted windows. At prices this low, you should choose discretion," it said.
Online dating site Be2 tapped into sympathy for Ms Trierweiler, mocking a line from the president's 2012 election campaign against Nicolas Sarkozy.
"Dear Valerie, the time to change is now," it said on its homepage.
Virgin Radio for its part compared the president's motorcycle helmet to those worn by French electronic music duo Daft Punk.
"Mr President, we know you're a fan. Daft Punk is on the Virgin Radio playlist," it said.
SMH