Nun who gave birth to a baby boy received a bunch of roses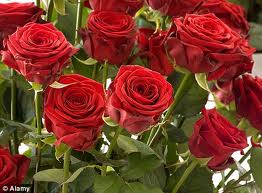 The Catholic nun who gave birth to a baby boy and named him Francesco, apparently after Pope Francis, is expected to be discharged from hospital soon and given refuge in sheltered housing.
Sister Roxana Rodriguez received a bunch of red roses from a mystery benefactor as she remained in hospital with her new-born baby, whom she has named Francesco – the Italian form of Francis.
The 31-year-old nun, who said she thought she was suffering from acute stomach pains until she gave birth to the 8lb baby boy last week, has been offered accommodation in sheltered housing in Rieti, which lies north of Rome in the region of Lazio.
The hospital in which she is resting with her baby has been under a security lockdown, amid reports that the nun, from El Salvador, has been overwhelmed by the level of media attention in her case.
She has not revealed the identity of the father of the baby but there is speculation that she became pregnant after rekindling an old flame during a visit back to her home country last spring.
She initially became a nun after having her heart broken by a failed romance, it was reported.
Church officials said that having broken her vow of chastity, she will no longer be a nun and will have to leave the convent where she lived, which is run by an order known as the Little Disciples of Jesus.
"We appreciate her decision to care for her baby, notwithstanding the gravity of the circumstances, both from a moral and a canon law perspective," said Delio Lucarelli, the bishop of Rieti.
The Church has wished her success in "a new life, albeit in rather unusual circumstances". Sister Rodriguez had not yet received one of Pope Francis's by now trademark cold calls but would be delighted if he was to phone, a social worker who is taking care of her said.
"The Pope has not called but I think that it would bring her great pleasure," said Anna Fontanella, from the local health authority.
"We are still evaluating all the options for when she is finally discharged from hospital. I think some form of sheltered housing is the most likely."
The Daily Telegraph