Sunnis must speak out against Hezbollah: Assir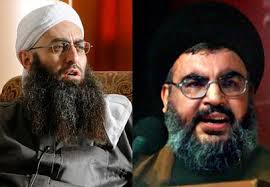 Salafist cleric Sheikh Ahmad al-Assir said on Sunday that the Sunni officials must speak out and tell the truth regarding the "crimes Hezbollah committed against them."
"Sunni scholars and politicians must speak out and tell the truth about the crimes Hezbollah has committed against them
, whether directly or through its tools, especially the Lebanese army," Assir wrote on his Twitter account.
The Sunni cleric has been on the run since late June 2013, after he and his supporters lost a fierce battle to the Lebanese army in Assir's Abra compound in Sidon.
Assir sent his condolences to the families of the victims of Friday's rocket attack in the mostly Sunni-populated Beqaa town of Arsal which left nine people dead.
The residents of Arsal on Friday accused the Shiite Hezbollah militant group of carrying out the rocket attack that targeted their eastern Beqaa town earlier in the day and resulted in killing nine civilians, seven of them children and injuring 14 others.
"Hezbollah has finally done it and we were not surprised by this because this is Hezbollah's reality," Arsal residents said in a statement issued on Friday.
They continued: "We are against killing civilians, we are against the acts of the Syrian regime and we are against Hezbollah and their methods of killing innocent civilians."
Arsal's deputy mayor, Ahmad Fleeti, told NOW that he received information the mortars were fired from outside the northern Beqaa town of Al-Qaa near a Hezbollah position.