Israel returns fighter's remains after 12 years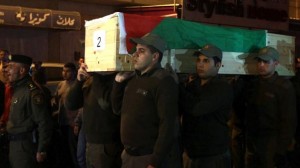 The Israeli government has handed the remains of a Palestinian fighter to his family, almost 12 years after he died.
Majdi Khanfar was killed during a Palestinian uprising known as the second intifada.
The return of Khanfar's body and the remains of other fighters are considered a goodwill gesture to US-driven attempts to restart talks between Israel and the Palestinians.
Al Jazeera
Photo: Palestinian soldiers carry the coffin of Majdi Khanfar, a Palestinian militant who was reportedly killed by Israeli forces during the second intifada almost 12 years ago.