Iran invited to Syrian peace talks after agreeing to terms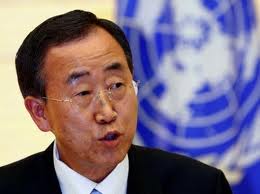 U.N. Secretary-General Ban Ki-moon said he has invited Iran to join the first day of peace negotiations between Syria and its opposition scheduled to take place in the Swiss city of Montreux.
"I believe the expanded international presence on that day will be an important and useful show of solidarity in advance of the hard work that the Syrian government and opposition delegations will begin two days later in Geneva," Ban said.
Ban added that Iran has agreed to the terms of the Geneva Communiqué including its action plan, which calls for a "Syrian-led political process leading to a transition that meets the legitimate aspirations of the Syrian people."
Iran is an important ally of President Bashar Assad.
During a televised press conference, Ban was asked directly if Iran had changed its mind when it came to a political transition in Syria.
"They are committed to play a constructive and positive role in the negotiations," Ban said. "They welcome this Geneva Communiqué."
He added that he was "convinced" that Iran supports the Communiqué.
Iran's participation in what's come to be known as Geneva II has been controversial. The United States long opposed Iran's participation, but earlier this month, Secretary of State John Kerry said Iran could play a role if leaders accept that the goal of the meetings is to establish a transitional government on which all sides agree and that has "full executive authority," should Syrian President Bashar Assad be persuaded to leave power.
On Saturday, the Western-backed umbrella group of Syrian rebels voted to attend the peace talks.
NPR