Deceived by Iran, UN's ban reconsidering invite for syria talks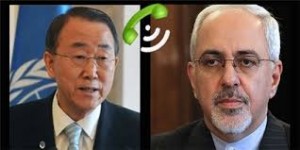 U.N. Secretary-General Ban Ki-moon is urgently reconsidering his invitation to Iran for Syria peace talks after its foreign ministry made a disappointing public statement in which it said Iran doesn't accept the terms of the peace talks in Switzerland, his spokesman said Jan. 20.
Martin Nesirky told reporters Jan. 20 that Ban "is dismayed" at the developments after he announced the invitation a day earlier.
Nesirky says Iran, despite assurances, "has made a disappointing public statement" that suggests Iran doesn't accept the terms of this week's peace talks in Switzerland.
Iran announced it had accepted an invitation by United Nations Secretary-General to attend talks due to start on Jan. 22 in Geneva aimed at ending Syria's civil war, the student news agency ISNA reported.
"We have always rejected any precondition for attending the Geneva 2 meeting on Syria … Based on the official invitation that we have received, Iran will attend the Geneva 2 without any preconditions," ISNA quoted Foreign Ministry spokeswoman Marzieh Afkham as saying.
Syria's main Western-backed opposition group says Iran must commit publicly by 1900 GMT to withdraw its "troops and militias" from Syria and abide by those terms, or the U.N. should withdraw the invitation.
"By 1900 GMT, they have to confirm that Iran is not invited to the conference or we will not attend," said Hadi AlBahra earlier Jan. 20, insisting that Iran's participation at the talks was "impossible".
Senior U.S. officials say the invitation must be withdrawn unless Iran fully and publicly endorses the formation of a transitional government for Syria that would pave the way for democratic elections.
Western powers have so far opposed Iran's presence on the grounds that it had not accepted a communique adopted by major powers in Geneva in June 2012 calling for the creation of an interim government.
Saudi Arabia, which supports the Syrian rebels, also rejected Iran's participation, saying it was "unqualified to attend."
Ban's invitation came after Tehran vowed to play a "very positive and constructive role" in peace efforts.