Russia forges axis with Iran, Syria ahead of Geneva II talks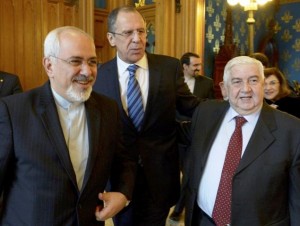 Russian President Vladimir Putin praised the Iranian leadership for their role in getting off the ice talks on Tehran's nuclear programme.
"I am convinced that this has occurred in large measure thanks to the efforts of the Iranian leadership," Mr. Putin said opening a meeting with Iranian Foreign Minister Javad Zarif in the Kremlin on Thursday.
"It is important that the agreements reached do not remain on paper only and that we move forward," Mr. Putin said.
Earlier in the day, Mr. Putin said relations between the two countries were poised to "scale new heights."
"The potential for bilateral cooperation is great and is far from having been exhausted," the Russian leader said after accepting credentials from Iran's new envoy to Russia on Thursday.
The Foreign Ministers of Russia, Iran and Syria held an unprecedented trilateral meeting in Moscow on Thursday to fine-tune their positions ahead of Syria peace talks next week.
The three Ministers discussed "the situation in Syria and around it in the context of preparations for the Geneva-2 international conference opening on January 22," the Russian Foreign Ministry said in a statement.
The meeting appeared to confirm the West's long-standing suspicions of an emerging Russia-Syria-Iran axis, even as Foreign Minister Lavrov denied the three countries had any secret plan.
The Iranian Foreign Minister and his Syrian counterpart Walid al-Moallem arrived in Moscow on Wednesday on the same plane from Damascus where Mr. Zarif met with Syrian President Bashar al-Assad.
Mr. Lavrov said the three countries shared "common positions" on the Syrian crisis, but denied they had any "hidden agenda" or a "trilateral project."
At his talks with Mr. Zarif Mr. Lavrov vowed to push for Iran's participation in Geneva-2.
"We are proceeding on the basis that Iran should and inevitably will be part of a set of measures to settle the Syria problems," Mr. Lavrov told a joint press conference with Mr. Zarif.
Mr. Zarif said Iran would attend Geneva-2 if invited, but would reject any "preconditions."
Washington insists that Tehran must first commit to results of the first Geneva conference on Syria in 2013.
Mr. Zarif's visit to Russia comes amid reports that the two countries are negotiating a mega deal to barter 500,000 barrels of Iranian oil a day for Russian goods. The deal would boost Iranian oil exports by 50 per cent.
Russian government sources confirmed to the Kommersant daily that the deal was in the pipeline, but the Iranian Foreign Minister denied the issue would be discussed during his current visit.
Reports also said Mr. Zarif was planning to discuss Russia's offer to sell Iran Antey-2500 long-range air defence missiles in replacement of an earlier contract for S-300 missiles, which Russia cancelled in 2010.
TH