Over 200,000 Syrians live in besieged areas, U.N.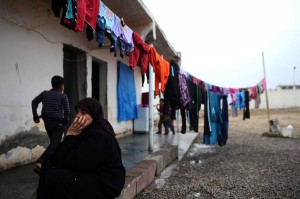 More than 200,000 Syrians are living in areas besieged by pro-government or rebel forces and lacking regular supplies of food and other essentials, the United Nations' humanitarian chief said Wednesday at an aid conference in Kuwait.
"Siege has become a weapon of war with thousands of people blockaded in their communities, running out of supplies and unable to get basic services," Valerie Amos, the U.N.'s under-secretary for humanitarian affairs, said at the Syria fund-raising conference, called to promote the U.N.'s largest appeal for a single crisis.
With Syria's humanitarian catastrophe worsening amid civil war, diplomats are trying to ramp up pressure on all sides to open aid corridors for needy civilians. Progress is slow.
Cutting off and isolating enemy enclaves has become a crucial strategy for both the government and its armed adversaries. The tactic has greatly complicated the delivery of desperately needed goods and medical care.
Besieged communities throughout Syria are now home to about 245,000 people, Amos said.
The United States and allied nations backing forces who oppose President Bashar Assad's government have frequently accused troops of blockading communities, especially rebel strongholds outside Damascus, the capital. But, with increasing reports of people running out of food, U.S. and U.N officials now acknowledge that both sides are using such tactics. Both government forces and rebels seek to block aid flowing into enemy bastions.
"The refusal of humanitarian access by both the regime and elements of the opposition is an outrage," Secretary of State John F. Kerry said at the aid conference.
For months, aid officials say, the predominantly Sunni Muslim rebels have laid siege to a pair of northern towns, Nubul and Zahra, whose 70,000 or so residents are largely Shiite Muslims. The Syrian government, meantime, has largely cut off battle zones in the eastern and southern suburbs of Damascus, which are frequent targets of military bombardment.
In some cases, such as the Old City of Homs and the southern Damascus district of Yarmouk, each side has reportedly imposed blockades, making the delivery of aid especially difficult.
U.S. and Russian officials say they are pushing to improve humanitarian access to besieged zones before Syrian peace talks scheduled to start next week in Switzerland.
But military blockades are not the only impediment to delivering aid in Syria, where the U.N. estimates that 9.3 million people, more than one-third of the population, are in "urgent" need of assistance. About 6.5 million Syrians still in the country have been forced from their homes, and 2.3 million have fled Syria.
The almost three-year Syrian civil war has presented many obstacles and dangers for anyone seeking to help civilians. Ongoing battles, the hijacking of aid convoys and attacks targeting humanitarian aid staff members and drivers of aid vehicles have also seriously hindered relief efforts. At least 48 humanitarian workers have been killed and many others kidnapped in Syria, the U.N. says.
"All sides in this conflict have shown a total disregard for their responsibilities under international humanitarian and human rights law," Amos said.
By late Wednesday, the donor conference in Kuwait had recorded $2.4 billion in pledges from participants, including $380 million in promised new contributions from the United States. The U.N. intends to move ahead with its plans to raise $6.5 billion for humanitarian aid in Syria.
LA Times
Photo: A Syrian woman sits in front of her house in a refugee camp in Reyhanli, Turkey, near a border crossing with Syria, on January 15, 2014. (Ozan Kose / AFP/Getty Images / January 15, 2014)