Egyptians' hopes and fears as new constitution put to vote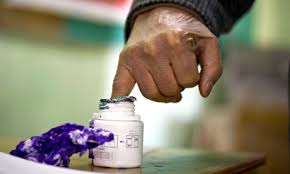 Six months after President Mohammed Morsi was deposed by the military, Egyptians are heading back to polling stations to vote on a new constitution.
The re-drawn document would replace an Islamist-drafted constitution passed during Mr Morsi's rule.
The Tuesday-Wednesday vote has been billed as the first step in Egypt's democratic transition after Morsi was deposed last July following huge protests against his one-year rule.
The Muslim Brotherhood has called for boycotting the referendum
BBC Arabic's Marwa Nasser spoke to Egyptians on the streets of Cairo to gauge their views.
Ahmed Hussein, 31, fruit seller

I'm not going to the polling station. Why should I go? My vote won't make a difference. Whether I go or not, the government will do whatever they want.
Since the beginning of the revolution, I have never felt my voice matters and I never voted.
Nothing will come out of this for people like me. Nobody provides us with anything, and nothing that they do encourages us to vote. There are no jobs, no pension. Nothing has changed.
UM Youssef , Housewife
I'll vote "Yes" so the country will settle down and things would move forward. I didn't take part in any other referendums or elections, but this time I'm sure there will be change.
I feel at peace about this referendum. I feel my vote will make a difference. Now we are more politically aware. Hopefully the results will be a "Yes" majority. If the majority is "No" that means something went wrong.
Mohammed Abdel Aal, 25, chef
I know I should go, but I can't accept the horrible atrocities committed these past few months. I don't belong to any party or current, I'm a moderate Egyptian who just sees that the "revolution" of 30 June [when Mohammed Morsi was deposed] is built on injustice and blood. I took part in other constitutional votes before.
The revolution did cause some changes but now Mubarak's era is back. Everything is a mess and everybody likes to play a political analyst. We had nothing to do with politics before, we misunderstood freedom and unfortunately we pay for it now and we'll still pay more in the future.
I will boycott. I have many concerns about this constitution.
Rawan Ahmed, 23, interior designer
I will boycott because my vote doesn't matter.
I took part in all previous referendums and elections. But this time I decided to boycott.
There's been a different mood the past three years; we were hopeful and elections were something new. But now the current regime doesn't tolerate any opposing voices – something I cannot accept.
I'm disappointed. It's only going from bad to worse since the revolution.
Mervet, 30, housewife
I'm voting "Yes" for the stability of the country, for love to spread among Egyptians. I wish all of us, Christians and Muslims could live peacefully together without any sectarian strife.
I wish to see many problems solved after this constitution passes, such as the problems of the homeless and of places of worship. There should be freedom to build mosques and churches with no restrictions.
Alaa Ibrahim, 35, banker
I'm boycotting anything that has to do with politics. All are mere lies. After Mubarak left, they brought Tantawi who was even worse, and then the Muslim Brotherhood came to power and they were much worse than both. And now some people want [Egypt's army chief Abdel Fattah] al-Sisi to be the president and he's no better than any of the former rulers.
I don't see anything going right, but still I'm grateful Egypt is safe and protected by God.
The January revolution [when Hosni Murabak was overthrown] was a disaster – things have only got worse than before. And now everybody protests and objects to everything. Next thing you know if a man didn't like his lunch, he'd start a protest.
I have high hopes in the will of God, but none in politics. Whoever comes to power thinks only about themselves and their entourage, as if Egypt is an individual property for them.
BBC