Charities pledge $400 million to Syria aid, report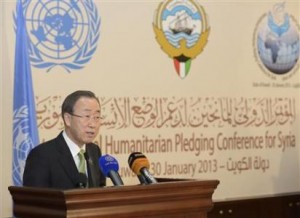 Non-governmental organizations have promised to donate a combined $400 million for humanitarian aid for Syria ahead of an international donor conference to be held in Kuwait, the Gulf state's official news agency KUNA said on Tuesday.
The donor conference, which opens on Wednesday, aims to help the United Nations raise $6.5 billion for Syria and neighboring countries in 2014, the biggest humanitarian aid appeal in the organization's history.
A similar donor conference held in Kuwait last year pledged $1.5 billion, mainly from Gulf Arab governments, to help provide food, drinking water, medicine and shelter for Syrians inside and outside of the country.
Syria's civil war has killed more than 100,000 people and forced some 2 million to flee abroad, according to the United Nations. Another 4 million have been displaced inside the country.
Overall, only 70 percent of crisis funding pledged for Syria in 2013 has been received by the U.N, according to the body's Financial Tracking Service (FTS).
U.N. Secretary General Ban Ki-moon, who will chair the Kuwait conference, has expressed regret that not all of the money has been received, KUNA said last week.
The United Nations is experiencing "serious funding gaps," he told KUNA in an interview about the nearly three-year conflict which has inflamed regional tensions.
"There seems to be some fatigue among donor countries because of this continuing violence," he said.
Reuters
Photo: U.N. Secretary-General Ban Ki-moon speaks to the media after the first day of the "International Humanitarian Pledging Conference for Syria" in Bayan Palace, Kuwait, January 30, 2013. Donor countries pledged more than $1.5 billion to aid Syrians stricken by civil war. This year the donor conference, which opens on Wednesday, aims to help the United Nations raise $6.5 billion for Syria and neighboring countries in 2014, the biggest humanitarian aid appeal in the organization's history. REUTERS/Stephanie McGehee (KUWAIT – Tags: POLITICS SOCIETY)