AK-47 inventor Kalashnikov tormented by feelings of guilt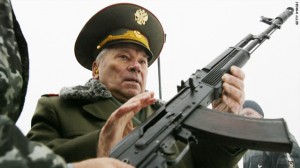 Mikhail Kalashnikov denied throughout his long life that he bore any responsibility for the millions of deaths caused by his namesake invention, the 100 million-plus AK-47 assault rifles that have been the weapon of choice for guerrillas, terrorists and kidnappers as well as standing armies.
But the soldier-turned-inventor who died last month at age 94 apparently was tormented by feelings of guilt at the end of his life and wrote to the head of the Russian Orthodox Church last April to confess his anguish, the Izvestia daily newspaper reported Monday.
"My soul ache is unbearable and has one irresolvable question: if my rifle took lives, does it mean that I, Mikhail Kalashnikov, aged 93, a peasant woman's son, an Orthodox Christian in faith, is guilty of those people's deaths, even if they were enemies?" reads the letter, according to the Russia Today translation of the Izvestia story.
"Good and evil coexist side by side, fighting and, worst of all, they resign themselves to each other in the hearts of people – that is what I have come to at the end of this earthly life," Kalashnikov reportedly wrote to Patriarch Kirill.
A spokesman for the patriarch's office confirmed the letter dated April 7, 2013, was authentic and that Kirill replied to the vaunted inventor that the church regarded the AK-47 as a weapon that justifiably defended the country during World War II and post-Soviet conflicts.
"The church has a very definite position: when weapons serve to protect the fatherland, the church supports both its creators and the soldiers who use it," patriarchy spokesman Alexander Volkov told Izvestia [link in Russian]. "He designed this rifle to defend his country, not so terrorists could use it in Saudi Arabia."
Kalashnikov, who was an atheist throughout his adult life until embracing the Orthodox faith of his peasant parents at age 91, had previously rejected the notion that he bore responsibility for the use to which militants and terrorists put his sturdy automatic rifles with the signature banana-shaped magazines.
"I sleep well. It's the politicians who are to blame for failing to come to an agreement and resorting to violence," Kalashnikov told the Associated Press in a 2007 interview on the 60th anniversary of the AK-47's production.
Kalashnikov is credited with designing the AK-47 — short for Avtomat Kalashnikova, first produced in 1947 — while recuperating in a hospital after being wounded in the 1941 Battle of Bryansk.
Historians claim the AK-47 changed the nature of combat, as the weapon is relatively light, has few moving parts, remains operable even in sand, mud and humidity and is equally functional in the jungle as on urban streets.
LA Times