US Senator Signals Support for Sending Helicopters to Iraq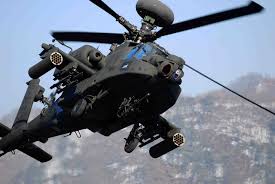 A powerful Senate Democrat signaled Wednesday that he might allow the transfer of AH-64 Apache helicopters to Iraq as the government in Baghdad struggles to recapture key territory seized by Islamic extremists in the western part of the country.
The senator, Bob Menendez of New Jersey, the chairman of the Foreign Relations Committee, has blocked the lease and sale of the powerful attack helicopters for months while seeking assurances that Iraq would not use them to attack civilians and that the government in Baghdad would take steps to stop Iran from using Iraqi airspace to ship arms to Syria's military.
Mr. Menendez received a three-page letter last week from Prime Minister Nuri Kamal al-Maliki of Iraq responding to his concerns and received an urgent call from the State Department on Tuesday promising a further response. Although committee officials said the answers so far do not go much further than Mr. Maliki or the administration have in the past, Mr. Menendez was convinced that they are serious about dealing with the concerns given the latest strife in Anbar Province.
"The administration is now addressing concerns first raised in July that required responses before this sale could proceed," said Adam Sharon, the senator's spokesman. "Provided these issues are sufficiently addressed, Chairman Menendez will be ready to move forward."
The Obama administration has proposed selling 20 to 30 of the helicopters to the Iraqi government, but, because it could take years for them to be built, it has also asked to lease up to 10 aircraft in the interim. Administration officials said the Apaches could be useful in targeting fighters affiliated with Al Qaeda like those who have taken over parts of Fallujah and Ramadi in recent days. But even if Mr. Menendez dropped his objections, it could take until April to deliver them, and officials noted that pilots would still need to be trained.
Moreover, other senators remain concerned. "I think we have to be very careful," said Senator Saxby Chambliss of Georgia, the ranking Republican on the Intelligence Committee. "All of that could fall into the wrong hands."
The administration is separately planning to provide an additional shipment of Hellfire missiles as early as this spring, seeing them as effective at denying Al Qaeda a haven in Anbar. In addition, the administration plans to send Iraq 10 ScanEagle surveillance drones in coming weeks and 48 Raven surveillance drones later in the year. Those come on top of Aerostat surveillance balloons provided to Iraq in September and three additional Bell IA-407 helicopters sent last month.
Still, even some senior Democrats who support reinforcing Iraqi troops said Mr. Maliki ultimately bore the burden for crafting a long-term political solution with Sunnis in restive Anbar Province.
"You could tactically go in with enough force to displace Al Qaeda, but the long-term success is based on the politics," said Senator Jack Reed of Rhode Island, a senior Democrat on the Armed Services Committee. "Maliki has to help himself out."
NY Times