Rebels take over Aleppo from Al Qaeda linked ISIS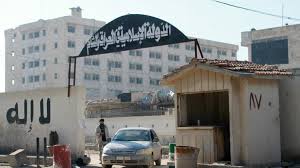 Following the fall of Al-Qaeda-linked Islamic State of Iraq and the Sham's (ISIS) headquarters in Aleppo
to the rebels " ISIL withdrew from the Inzarat area and the post office building was taken over by rebel fighters" the Syrian Observatory for Human Rights said.
"Hardly any ISIL members are left in the city of Aleppo," the UK based Human Rights Group added.
ISIL has been battling the moderate and Islamist rebels in Aleppo since last Friday.
Ten rebels were killed Wednesday and an unknown number of ISIL militants, said the Observatory, which relies on a network of activists and sources on the ground.
Observatory chief Rami Abdel Rahman told AFP it was "possible that there are ISIL members still in the city individually, but there is no longer an ISIL organization or base".
Earlier, rebels from different Islamist brigades overran ISIL's headquarters in the northern city, a former children's hospital, in the city centre, the Observatory said.
The monitoring group said the bodies of at least 42 people executed by ISIL had been found at the base.
The bodies included those of five activists and 21 fighters, the group said.
The capture of the hospital was a boost for the rebels, who only the day before saw 20 of their fighters killed in an al-Qaida suicide car bombing in the northern city of Darkoush, according to activists.
As the rebel infighting continued, so did clashes between Assad's forces and rebels.
In Duma, a suburb of the Syrian capital of Damascus, three people and a child were killed and several were wounded after a government airstrike targeted a house on Tuesday, reported the Observatory and another activist group, the Local Coordination Committees.
Photo: Al-Qaeda-linked Islamic State of Iraq and the Sham's (ISIS) headquarters in Aleppo which was lost to the moderate Syrian rebels