Al-Qaeda-linked ISIS executes prisoners in Aleppo, Syria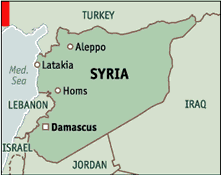 Video footage posted online Wednesday shows nine bodies of prisoners, blindfolded and hands bound, in pools of blood allegedly executed by Al-Qaeda-linked militants in northern Syria, activists said.
The footage, posted by Shahba Press, a network of activists in the region, shows the nine men were all shot in the head.
While recording the images, the cameraman is heard to say: "This was done by ISIS. Are the victims apostates? No, they're Muslims."
He was referring to the Islamic State of Iraq and al-Sham, whose Aleppo headquarters was overrun by rebels earlier Wednesday as clashes between opposition forces raged into a sixth day.
On the footage, purportedly shot at the headquarters, another voice is heard to say: "These are the same acts carried out by the shabiha [pro-regime militia]. They were all shot in the eye or the head."
One Shahba Press activist told AFP "dozens of prisoners were freed but dozens of others were executed on Monday or Tuesday by ISIS during the assault on their HQ" at a hospital in the Qadi Askar neighborhood of Aleppo.
The jihadists' loss in Syria's second city came a day after ISIS's spokesperson threatened to "crush" rebels who have attacked the group in multiple provinces.
Syrian Observatory for Human rights chief Rami Abdel Rahman told AFP the killings in the headquarters were a war crime.
"Such acts confirm what we have already said — ISIS commits war crimes, crimes against humanity, and does the opposite of its claim that it came here to help the Syrian people," he said.
"The people of Syria want to get rid of a dictatorship and embrace democracy, not a new dictatorship in Islamic garb," he said.
"At the same time, we condemn the executions of ISIS members. The Observatory will continue to report all war crimes and crimes against humanity no matter who carried them out."
NOW/AFP