Muslim Brotherhood on hunger strike found eating, drinking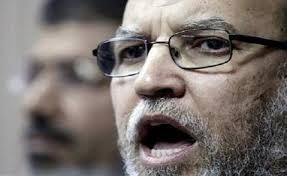 Senior leaders of Egypt's Muslim Brotherhood who were said to be on hunger strike were captured in a video on Wednesday sharing food at the waiting room of a Cairo court.
The video, published by el-Watan News website, showed deputy leader of the Freedom and Justice party Essam el-Erian, Muslim Brotherhood leader Alaa Hamza and Salafist activist Gamal Saber eating food and drinking following at the end of their trial session.
The Muslim Brotherhood said on Dec. 23 that more than 450 of its members launched a hunger strike to protest their "inhuman treatment" in jails.
The Islamist group, which has largely gone underground after a heavy security crackdown, said detainees are "banned from family visits, legal counseling, medical care and (live in) overcrowded and unhygienic cells."
The Brotherhood said several senior figures were taking part in the strike, including the wealthy financier and onetime presidential hopeful Khairat al-Shater, senior official Erian, former legislator Mohammad Beltagi and Essam al-Haddad, an adviser to Mursi during his presidency.
Egyptian security forces have arrested thousands of Islamists, including virtually the entire top leadership of Mohammad Mursi's Muslim Brotherhood, since he was deposed on July 3.
The 85-year-old political and social movement prevailed in a series of polls following the overthrow of Hosni Mubarak in 2011, and Mursi became the country's first freely elected leader after winning elections last year.
But his turbulent year-long rule was deeply polarizing, and the military forced him from power after massive protests in which demonstrators accused him of betraying the 2011 "revolution."
Al Arabiya