Lebanon leaning towards an all-inclusive government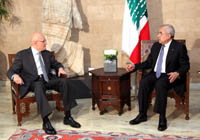 President Michel Suleiman 's advisor Khalil Hrawi revealed on Thursday that the political powers "are leaning towards the formation of an all-inclusive government." However he did not rule out the possibility of the formation of a neutral cabinet should efforts to form an all-embracing one fail, Central News Agency reported.
"Conditions to form a new government are positive " he added and predicted that a government that grants each of the March 8 and 14 camps and centrists eight ministers based on the 8-8-8 formula will likely be established.
A ministerial statement will be devised by a committee consisting of representatives of each of the camps after the cabinet is revealed, explained Hrawi.
"We cannot predict when the cabinet will be established, but I do not think we have to wait too long," he remarked.
The announcement of the new government requires that Suleiman and Prime Minister-designate Tammam Salam meet before its reveal, but such an appointment has not been made yet, Hrawi said.
The March 8 camp has recently accepted the 8-8-8 cabinet line-up which PSP leader MP Walid Jumblatt has been trying to market and it is awaiting the March 14 camp's position on the matter.
March 14 alliance is awaiting the decision of former PM and Future Movement leader MP Saad Hariri .
Hezbollah MP Hassan Fadlallah warned after Hezbollah's bloc meeting on Thursday against forming a neutral cabinet which he called unconstitutional.
"We call for a all-inclusive cabinet because a de facto council of ministers is not legitimate and unconstitutional and does not conform to the Taif Accord. We warn against forming such a cabinet."
But March 14 has been opposed to Hezbollah participation in a cabinet as long as the Iranian backed militant group continues its Syrian role.
Thousands of Hezbollah fighters joined the forces loyal to president Bashar Al Assad in their fight against the Syrian rebels, an act that goes against Lebanon's dissociation policy as outlined in the so called Baabda declaration .