Syrian opposition re-elects Jarba as its president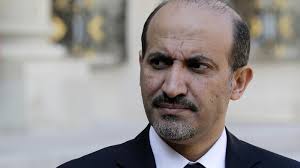 Ahmad Assi al-Jarba was re-elected as the Western-backed Syrian opposition's leader for a second six-month term on Sunday, coalition members said, defeating former Syrian prime minister Riyad Hijab.
While designated as the main body representing the opposition by the United States and other key powers, the newly elected political committee of the Syrian National Coalition faces a struggle for credibility in the run-up to international peace talks.
Rebel infighting has given President Bashar al-Assad a stronger hand on the ground and marginalised groups more palatable to Western powers, while more radical Islamist brigades make gains.
Jarba, a tribal figure from the eastern province of Hasaka who has connections with Saudi Arabia, beat Hijab by 65 votes to 52, a statement from the coalition said.
"Jarba will make good progress in the next six months," senior coalition member Anas Abdah told Reuters, speaking from the undisclosed location outside Istanbul where the two-day meeting was being held.
"The priority should be to reorganise (the SNC's) military wing, work on the political solution, the interim government and increasing humanitarian help."
The Western-backed rebels grouped under the Coalition are still reeling from what several senior coalition members described as a political and military disaster last month.
The United States and Britain suspended non-lethal aid to Coalition-allied rebels in northern Syria after the Islamic Front seized weapons depots belonging to the Coalition's military wing, the Supreme Military Council (SMC), at the Bab al-Hawa border with Turkey.
The Coalition is being pushed by major powers to attend talks on Lake Geneva on Jan. 22 aimed at ending the almost three-year conflict, which has killed more than 100,000 people and displaced millions. At the same time, its leaders fear losing what credibility they have on the ground by sitting down with Assad.
One Coalition source said Hijab's experience as prime minister would have made the umbrella group a more credible political force and emboldened current employees of the Syrian government to support the opposition. Other members said that he had simply joined the race too late, having only announced his candidacy earlier in the day.
Assad appointed Hijab, a former agriculture minister, as prime minister in June 2012 after a parliamentary election that authorities said was a step towards political reform but opponents dismissed as a sham. He defected to Jordan with his family two months later.
Kurd Hakim Bashar, Muslim Brotherhood-backed Faruq Tayfur and Noura Al-Amir, a woman in her 20s who is the youngest member of the Coalition's political committee, were elected as its vice presidents on Sunday.
On Monday, the Coalition was set to take a final decision on whether or not to join the "Geneva 2" talks following prolonged international efforts to bring both the Syrian government and opposition representatives to the negotiating table.
Reuters