Lebanon blasts reflect spillover of Iran-Saudi proxy war in Syria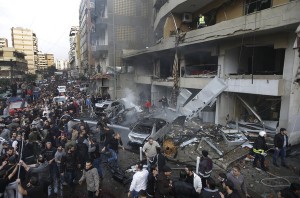 Beirut- Two deadly bombings in Beirut over the last week and the arrest of a fugitive Saudi militant in the Nov. 19 attack on Iran's embassy in the Lebanese capital reflect the escalating spillover of a proxy war in Syria.
Iranian Shiite Muslims and rival Sunnis in Saudi Arabia have been battling for years for dominance in the Middle East. But the rivalry has intensified since May, when the Lebanon-based and Iranian-backed Hezbollah militia made clear it had intervened in Syria's civil war on the side of the embattled Shiite-aligned government.
And as Iran and the United States have recently taken steps toward improving relations after 34 years of bitter animosity following Iran's Islamic Revolution, resentment has emanated from the Saudi kingdom that has, like other Sunni-ruled states in the Persian Gulf, been a longtime Washington ally.
Lebanese officials disclosed to news agencies this week that they had arrested Majid Majid, a Saudi citizen who commands the Al Qaeda-aligned Abdullah Azzam Brigades, a Sunni militia with factions in Lebanon and on the Arabian Peninsula. The extremist group named for a Palestinian mentor to Al Qaeda founder Osama bin Laden has claimed responsibility for numerous attacks, including the Iranian Embassy bombing six weeks ago that killed 23 people.
A Lebanese official said a DNA sample taken from Majid had been sent to Saudi Arabia for comparison with samples from the militant's relatives to positively establish his identity, the Associated Press reported from Beirut.
The Saudi ambassador to Lebanon, Ali Saeed Asiri, said Majid was still being interrogated by his Lebanese captors but suggested that the kingdom might try to extradite him. Majid, Asiri noted, is one of 85 Saudis on the country's most-wanted list for ties with Al Qaeda and other terrorist groups.
"Al-Majid is a Saudi citizen and no doubt [Riyadh] would like to have him back after verifying his identity," Asiri told Al Riyadh newspaper.
That prompted Iran's ambassador to Lebanon, Ghazanfar Roknabadi, to ask that Iranian diplomats be included in the investigation of Majid, Lebanese television reported.
A senior Iranian lawmaker commended Lebanon's security forces for their capture of Majid and declared it "noteworthy" that a Saudi was considered to have orchestrated the twin suicide bombings of the embassy that killed Tehran's cultural attache and the wife of another diplomat.
"The Lebanese government, which is responsible for ensuring security in the country, should, more than others, pay attention to the involvement of a Saudi element as the mastermind of the bombing in front of Iran's embassy in Beirut," Iranian parliamentarian Alaeddin Boroujerdi told Press TV.
Mounting violence in Lebanon is at least partially attributable to Hezbollah's open assistance to Syrian President Bashar Assad and his government, which is dominated by the Shiite-affiliated Alawite sect. Mostly Sunni opposition forces who have been fighting to oust Assad for nearly three years have vowed to retaliate against Hezbollah, and deadly incidents like Thursday's bombing in a Beirut neighborhood controlled by the militia have been blamed on the rebel groups angered by the foreign aid to Assad's regime.
Lebanon's conflicted political leadership doesn't want to be sucked into its own civil war but "tensions of the massive proxy conflict occurring in and around Syria are becoming harder to contain," said Paul Salem, vice president for policy and research at the Middle East Institute in Washington.
"Regionally, Iran and Saudi Arabia are the two main powers slugging it out across the Levant, and, as the African saying goes, 'when the elephants fight, the grass gets trampled,'" Salem said. "Until these two powers that lead rival branches of Islam find a way to pull back from full-scale proxy war and work toward building a more stable region, mixed communities in the Levant and further afield will know no peace."
Both Lebanon's caretaker prime minister and Hezbollah's deputy commander issued similar warnings after Thursday's bombing that the proxy fight between Sunnis and Shiites in Syria was threatening to tear Lebanon apart.
A Dec. 27 car bombing killed Mohamad Chatah, a former ambassador to the United States and an adviser to successive Lebanese leaders. That bombing was seen as a warning to the anti-Hezbollah March 14 faction in Lebanon against seating a Cabinet lacking representation of the country's Shiite minority, Salem said.
Thursday's attack on a Hezbollah stronghold in a south Beirut neighborhood, which killed at least four and injured dozens, "proves that the hand of terrorism does not differentiate between the Lebanese," interim Prime Minister Najib Mikati said.
"The fire burning in more than one region of Lebanon portends what is worse if we do not meet and deal with our problems away from the language of defiance and exclusion," Mikati said in a statement.
"Lebanon is on the road to destruction unless we work on a political understanding," Hezbollah No. 2, Naim Qassem, was reported by Lebanon's Daily Star as saying.
The battle for regional influence being fought by Saudi Arabia and Iran is also considered to have been the impetus for Riyadh offering $3 billion in aid to Lebanon's army — money that will allow the Sunni-dominated government to purchase arms to counter Iranian-supplied Hezbollah.
The Saudi military assistance to Lebanon has seriously rattled Iran and Hezbollah as most of the aid is intended to bolster ground forces in their mission to contain the Shiite militia, said Nader Karimi Juni, an analyst and chief editor of Iran's Gozaresh journal of politics and economics.
The aid from Riyadh, the analyst said, "is going to be undermining all the interests gained [by Iran] in Lebanon and Syria in the past 34 years."
Photo: A second deadly blast in Beirut in less than a week hit a Hezbollah-controlled area, killing at least four and injuring dozens. A Dec. 27 car bomb killed a government minister and at least six others. Leaders of Hezbollah and rival political factions say they fear the proxy war being waged in Syria between Iran and Saudi Arabia threatens to tear Lebanon into its sectarian pieces. (Hussein Malla / Associated Press / January 2, 2014)