Hezbollah Moving Long-Range Missiles From Syria to Lebanon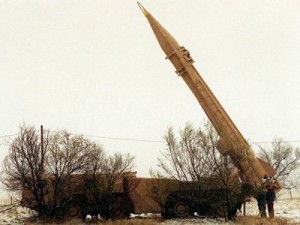 BEIRUT, Lebanon — Amid the chaos of Syria's civil war, Hezbollah has been moving long-range missiles to Lebanon from bases where it had stored them inside Syria, including long-range Scud D missiles that can strike deep into Israel, according to an Israeli national security analyst.
The analyst, Ronen Bergman, who has close contacts with Israeli intelligence officials, said Thursday that despite Israel's undeclared campaign of airstrikes in Syria to stop new deliveries, most of the long-range surface-to-surface missiles given to Hezbollah by its allies Iran and Syria have been disassembled and moved to Lebanon.
American intelligence analysts have also concluded that members of Hezbollah, the Lebanese Shiite militia, are smuggling components of advanced Russian-made antiship missile systems piecemeal into Lebanon from war-stricken Syria to avoid an Israeli air campaign, a United States official said Thursday.
As many as 12 Russian-made antiship cruise missile systems may now be in Hezbollah's possession inside Syria, according to the American official, who said that the organization had smuggled at least some components from those systems into Lebanon within the past year, but that it did not yet have all the parts needed there. The transfers were first reported Thursday night by The Wall Street Journal.
Hezbollah, which is also Lebanon's strongest political party, has a network of bases that were built inside Syria, near the border with Lebanon, to give the group strategic depth and to store the missiles, Mr. Bergman said. But with a nearly three-year insurgency threatening President Bashar al-Assad of Syria, an ally of Hezbollah, keeping the missiles in Syria is no longer as secure, Mr. Bergman said.
The missiles being moved, he said, include Scud D's, shorter-range Scud C's, medium-range Fateh rockets that were made in Iran, Fajr rockets and antiaircraft weapons that are fired from the shoulder.
Israel has struck inside Syria at least five times in 2013, seeking to destroy weapons systems bound for Hezbollah.
Israel carried out an air attack in Syria in July that targeted advanced Yakhont antiship cruise missiles, which could threaten Israeli naval forces. American analysts later determined that the strikes did not destroy all the missiles systems.
In addition to targeting the Yakhont missiles, Israel carried out an airstrike in late January 2013 aimed at another system provided by Russia: a convoy of SA-17 surface-to-air missiles that Israeli officials believed were destined for Hezbollah.
In May 2013, Israeli warplanes conducted two days of airstrikes that targeted, among other things, a shipment of Fateh-110 missiles — mobile surface-to-surface missiles that had been provided by Iran and flown to Damascus, Syria, on transport planes that passed through Iraqi airspace.
Israel is concerned that Hezbollah not acquire what it considers game-changing strategic weapons during the Syria chaos.
Mr. Bergman said that on the first day of the war between Hezbollah and Israel in 2006, the chief of the intelligence agency Mossad at the time, Meir Dagan, advised the government not to start an attack on Hezbollah in Lebanon without first hitting the militia's bases in Syria, which were built on the strategy that Israel would not dare to strike Syria.
Mr. Bergman's account corroborated one given by a Syrian military officer in December 2012, at a time when rebels seemed to have momentum in their advances on Damascus.
The officer, who spoke over Skype from Damascus, said he no longer supported the government and wanted to defect but was waiting for the right moment, in the meantime acting as an informant for the rebels. He said government forces were dismantling strategic weapons and sending them to two locations "for safekeeping": the coastal province of Tartus that the government holds and south Lebanon, where Hezbollah holds sway.
The weapons, he said, were being sent in tractor-trailers with special coolers. The officer said his information came from another officer who was loyal to the government and with whom he had close relations, and from his own limited observations of the trucks being used to move the weapons.
After several contacts, the officer could no longer be reached, and the information could not be verified.
NY Times