A couple gunned down in Libya while having a picnic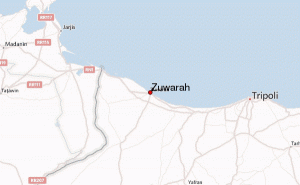 A British oil worker has been shot dead in Libya while having a picnic on a beach with a female companion.
The couple were gunned down near the coastal town of Zuwarah, 60 miles west of Tripoli and their bodies were left lying face down on the sand.
Foreign Office officials confirmed that his family had been informed of the tragedy said they were calling on the Libyan authorities to carry out a thorough investigation into the murder.
Both victims were thought to be oil workers with Mellitah Oil and Gas company, which is co-owned by the Italian company ENI.
A graphic photograph published on a social networking site appeared to show the victims lying face down in a pool of blood on a beach beside a picnic blanket.
Last week four armed American security officers from the US embassy were detained for several hours close to the Mellitah oil complex.
The men were eventually released after claiming to have been checking an evacuation route towards the Tunisian border.
But security sources suggested the group may have been investigating the activities of Jihadist groups in the area linked to al Qaeda.
One theory being explored according to security sources is that the murders were in revenge for what was perceived as a spying mission by the Americans.
Westerners have been warned about the increasingly unstable situation in Libya where an American teacher was shot dead while jogging just four weeks ago.
On Thursday night it was reported that two Americans, who worked as basketball coaches, were detained in the eastern city of Benghazi, amid heightened tension.
A Foreign Office spokesman said: "We are deeply saddened by the murder of a British national and New Zealander in Libya.
"Police have informed their families and consular officials are providing full consular support in Libya and the UK. Our thoughts are with them at this difficult time.
"Our Chargé d'Affaires has raised the shooting with the Libyan authorities and we are liaising closely with them on follow-up.
"We call upon the Libyan Government to carry out a thorough investigation in to this tragic incident and to continue to do all it can to bring to justice the perpetrators of this appalling crime, as it strives to build strong rule of law in Libya."
Experts on the region claimed the large number of heavily armed militia now operating in the lawless state, meant the country was becoming increasingly unsafe.
Shashank Joshi, research fellow at defence and security think-tank the Royal United Services Institution (Rusi), said large parts of Libya were now "exceptionally dangerous" and the government did not have a grip on things.
Mr Joshi said: "There are so many people with guns in Libya and security is so lax that it does not necessarily require a very organised, sophisticated group to conduct an assassination or a killing.
"A lot of groups have the ability to inflict violence like this.
"There are so many armed groups in Libya that the number of suspects able and willing to kill a westerner is high."
All Britons were urged by the Government to leave Benghazi in January last year in response to a "specific and imminent threat" against westerners and there was also an alert of a "potential threat" against the British Embassy in Tripoli.
The danger posed by terrorists in the region was highlighted that same month when six Britons and one UK resident were killed in an attack on the In Amenas gas plant in neighbouring Algeria.
The Daily Telegraph