Another bomb targets Hezbollah stronghold, updates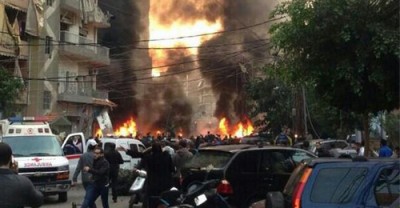 A car bomb exploded in the stronghold of the Iranian-backed Hezbollah in south Beirut, causing a large number of casualties, the group's Al Manar TV station said.
The rush-hour blast in the Lebanese capital's densely populated suburbs is the third to target that neighborhood since July, the station said. First reports indicated that two people died and several more were wounded, Lebanon's state-run National News Agency said. Ambulances rushed to the scene of the explosion as thick smoke rose from the wreckage.
The attack is the latest to underline deep divisions in Lebanon caused by the civil war in Syria, which pits mostly Sunni rebels against President Bashar al-Assad, an Alawite whose sect is an offshoot of Shiite Islam. It came a week after a senior Sunni Muslim figure was assassinated in a car bomb in Beirut.
Violence has surged in Lebanon since Hezbollah militants acknowledged joining Assad's side in the Syrian civil war. Attackers have targeted Hezbollah strongholds in Beirut and the Bekaa Valley and the Iranian embassy, while twin explosions also ripped through Sunni Muslim mosques in the northern city of Tripoli.
Updates: Sky News reported that seven people were killed and more than 20 wounded in the Hezbollah stronghold of Haret Hreik blast.
LBCI reported that initial information reveals that the car used in the explosion is a Grand Cherokee and that it was double parked .
Al-Manar Three people who died in the Haret Hreik explosion were transferred to Bahman hospital and 33 wounded were admitted to be treated there, among them many with severe injuries.
March 14 general-secretariat coordinator Fares Soueid told al-Arabiya in comments about the bombing:" The repercussions of what is happening in Syria and Iraq are affecting us all as Lebanese and this is why we asked for an immediate withdrawal from Syria. But today, I only say that we stand beside the families of the victims and the wounded and we repeat our condemnation. We must stand united today." He added: "Each person that was martyred today in Beirut's southern suburbs is a martyr mourned by all the Lebanese."
Al-Arabiya quoting security sources as saying: "The bomb that exploded in Haret Hreik has been estimated to weigh 30 kg ( 66 lb.) of TNT.
Former PM Saad Hariri said in comments about the bombing: "The terrorism that is targeting civilians, innocents and civilian areas is a criminal behavior that is devoid of any human feelings and can certainly be described as "satanic deeds."
Former Lebanese president and Phalange Party leader Amin Gemayel in comments about the bombing told LBCI: "The only way to respond to these acts is through reaching an understanding among each other."
Speaker Nabih Berri said in comments about the bombing: "The hands that assassinated minister Chatah are the same hands that staged bombings in Dahieh in the past and today and the same hands behind the Tripoli blasts."
Hezbollah and the Syrian regime were blamed for the assassination of former finance minister Mohammad Chatah and for the Trpoli twin bombings that targeted 2 Sunni mosques
This is a developing story more to follow