Missing Hezbollah commander killed in Syria buried in Lebanon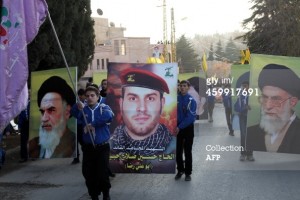 A Hezbollah commander, who had been missing for months in Syria, was buried in Lebanon on Wednesday after his body was repatriated following his torture and killing by rebels, relatives told AFP.
Hussein Salah Habib, 30, was captured by Syrian rebels during the fight for Qusayr, a strategic town near the Lebanese border that fell to the regime on June 5.
Hajj Habib was buried in Baalbek, in the Bekaa valley, a region of eastern Lebanon that is a bastion of Hezbollah.
The Shiite militant group is a staunch ally of Syrian President Bashar al-Assad and has sent fighters to support his troops against the rebels.
Armed Hezbollah members and fighters who participated in the battle for Qusayr were among those at Habib's funeral, an AFP correspondent reported.
His body had been missing for months since the battle in Qusayr, and was recovered nearly a week ago in the area of Tallet Mando, near the town.
"He was repatriated and DNA tests proved that it was indeed Hussein," a relative said.
"We were told that his body was buried under a mound of sand. He had been stabbed in several parts of his body and his face was disfigured," he added.
The Syrian Observatory for Human Rights says at least 262 Hezbollah fighters have been killed in Syria since the beginning of the conflict in March 2011.
The group first publicly confirmed its intervention in the conflict in April.
It has been controversial in Lebanon, where many Sunnis back the Sunni-dominated uprising, some of them also travelling across the border to fight the regime.
Iran-backed Hezbollah's involvement has brought it under attack in Lebanon, where its south Beirut stronghold has been hit by bombs and rockets.
In November, a twin suicide bombing struck the Iranian embassy in south Beirut, killing 25 people.
NOW/AFP
Photo: A portrait of Hussein Salah Habib, a Lebanese Hezbollah commander missing for months in Syria, is displayed during his funeral on January 1, 2014 in Baalbek, in an eastern area of Lebanon that is a bastion of the Shiite militant group Hezbollah. Hussein Salah Habib, 30, was tortured and killed by opposition fighters after he was captured during the fight for Qusayr, a key rebel bastion near the Lebanese border that fell to the regime on June 5. (L) a portrait of the founder of the Islamic Republic, Ayatollah Ruhollah Khomeini, (R) of the leader of the Islamic Republic of Iran, Ayatollah Ali Khamenei. AFP PHOTO STR (Photo credit should read -/AFP/Getty Images)