MP Hamadeh: Saudi grant to end Hezbollah arms dominance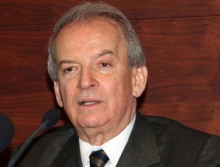 MP Marwan Hamadeh, a key member of the March 14 alliance hailed in a statement on Monday the $3 billion Saudi grant to buy arms for the Lebanese Army and said this could spell the end Hezbollah's arms dominance in Lebanon.
"The Baabda Declaration and now the Saudi-French-Lebanese deal will put an end to Hezbollah's weapons domination both in Lebanon and Syria," Hamadeh said.
Hamadeh also praised President Michel Suleiman for engineering the deal that would allow the Lebanese Army to buy weapons from France.
He also thanked Saudi King Abdullah for his "leading role in the Arab world," recalling Riyadh's role in rebuilding Lebanon following the 1975-90 Civil War and the 2006 Israel- Lebanon war.
"Once again Saudi Arabia is rebuilding Lebanese institutions, the [Lebanese] Army, which is the most vulnerable to the illegitimate weapons conspiracy," Hamadeh added.
Suleiman's dream

Hamadeh 's comments come a day after Suleiman announced that Saudi Arabia has pledged $3 billion to buy arms for the Lebanese Army from France to help support and strengthen the military.
"I am pleased to announce to the Lebanese people that Saudi King Abdullah bin Abdel Aziz Al Saud has decided to offer Lebanon a generous grant of $3 billion to help the Lebanese Armed Forces receive new weapons," the president said in a televised address to the nation on Sunday
"Enhancing the army's capabilities is a unifying national and popular demand and a source of pride and it is a dream that I always had during my 41 years of military service, and it is the dream of every Lebanese since independence to confront the Israeli threat, protect democracy, face terrorism and put an end to the proliferation of arms," said the president.
Suleiman described the move as "the biggest support in Lebanon's history," pointing out that it is "sufficient to enable the army to perform its missions."
Suleiman also revealed that another 1.6 billion dollars might be offered during an international meeting in Italy in 2014.
"The initiative is an honest reflection of the kingdom's efforts to preserve Lebanon," Suleiman said.
French President François Hollande, who was in Riyadh, the Saudi capital, Sunday for talks with King Abdullah, said France would gladly help if requested to do so.
Hamadeh miraculously survived an assassination attempt on October 1, 2004. He was accused of being behind UN security council resolution 1559 which called for the Syrian troops to leave Lebanon and for Hezbollah to be disarmed.
Hamadeh reportedly received several threats of assassination earlier this year.
Last Friday another key member of March 14 was assassinated.
Former Finance Minister and senior diplomat Mohammad Chatah was assassinated along with six others in a massive bombing that rocked downtown Beirut . Both Hezbollah and the Syrian regime were blamed for the attack .