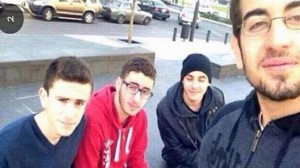 Mohammad al-Chaar, a Lebanese teenager who was seen posing for a group photo with his friends in front of a bomb-laden car moments before it exploded, died of his injuries in Beirut on Saturday.
"The number of victims from the attack rose to seven after the death of young Mohammad al-Chaar this morning, succumbing to his injuries at the American University of Beirut Medical Center," said Lebanon's official NNA news agency, according to Agence France-Presse.
Following Friday's bombing in the heart of Beirut, press photographers saw the 16-year-old lying bleeding on the pavement, before he was taken to hospital with severe injuries.
Dozens of people were also wounded in the bombing, which officials said was caused by 50-60 kilograms of explosives.
The news of the teenager's death was met with an outpouring of grief from friends and family.
The 'selfie' of al-Chaar was widely distributed on the internet, and the confirmation of his death sparked an outpouring of tributes on social media networks.
Chaar and his friends Omar Bikdash, Rabih Youssef and Ahmad Moghrabi, all secondary school students, were at a park nearby enjoying a sunny Friday morning at the time of the explosion.
Moghrabi, Youssef and Bikdash survived the blast while Chaar was transferred to the hospital after suffering serious head wounds.
Casting blame

Friday's bombing in the center of the Lebanese capital wounded dozens and claimed six more lives, including Dr. Mohammad Chatah, a former Finance Minister and close aid to former PM Saad Hariri.
The Lebanese March 14 political coalition blamed Shiite militant group Hezbollah and the Syrian regime for the attacks.
Dozens of people were also wounded in the bombing, which officials said was caused by 50-60 kilograms of explosives.
Chatah is to be buried at the mausoleum of Hariri's father on Sunday, which President Michel Sleiman has declared a national day of mourning.
Rafik Hariri, the former prime minister, was killed in a suicide bombing on the Beirut seafront on Feb. 14, 2005.
Photo: Mohammad al-Chaar, wearing a red pullover, is seen in this selfie taken on Friday, Dec. 27, 2013, and circulated on social media websites just before the car bombing that targeted former Finance Minister Mohammad Chatah in Downtown Beirut.
Al Arabiya
This error message is only visible to WordPress admins
Error: No connected account.
Please go to the Instagram Feed settings page to connect an account.