Army arrests a suspect in the Iranian embassy bombing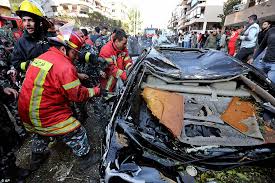 The Lebanese Armed Forces arrested on Saturday a man who allegedly had contact with one of the suspects in the Iranian embassy bombing.
The man was identified as Mustafa Hanqir and is reportedly a supporter of Sunni cleric Sheikh Ahmad al-Assir, National News Agency reported.
Hanqir was reportedly arrested in order to investigate his relation with Mouin Abu Dahr after he was seen in a photograph with him, security sources told Al-Jadeed ( New) TV.
Abu Dahr whose father is Sunni and mother is Shiite, was a resident of the southern port city of Sidon and a strong supporter of Sheikh al-Assir.
Security sources said the footage obtained from security cameras showed Abu Dahr stepping out of the Trailblazer and walking toward the embassy in Bir Hasan, where he blew himself up, killing the embassy's cultural advisor and several guards.
An al-Qaida-linked group, the Lebanese Abdullah Azzam Brigades, claimed responsibility for the attack, and said it was avenging Hezbollah's military involvement in Syria.
Hezbollah has been openly backing troops loyal to President Bashar Assad against the rebels seeking to topple him, despite the Baabda declaration which calls for distancing Lebanon from the regional conflicts .
NOW/ Ya Libnan