Suleiman: Saudi Arabia grants Lebanon army $3 bil. for arms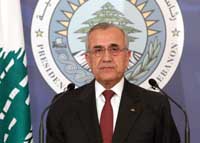 Lebanese President Michel Suleiman announced on Sunday evening that Saudi Arabia made a landmark $3 billion military grant to Lebanon to purchase weapons from France.
"I am pleased to announce to the Lebanese people that Saudi King Abdullah bin Abde Aziz has decided to offer Lebanon a generous grant of $3 billion to help the Lebanese Armed Forces receive new weapons," the president said in a televised address to the nation.
"The King has specified that the weapons will be bought from France… and I hope Paris responds to this initiative quickly." He said.
"Enhancing the army's capabilities is a unifying national and popular demand and a source of pride and it is a dream that I always had during my 41 years of military service, and it is the dream of every Lebanese since independence to confront the Israeli threat, protect democracy, face terrorism and put an end to the proliferation of arms," said the president.
Suleiman described the move as "the biggest support in Lebanon's history," pointing out that it is "sufficient to enable the army to perform its missions."
Suleiman also revealed that another 1.6 billion dollars might be offered during an international meeting in Italy in 2014.
"The initiative is an honest reflection of the kingdom's efforts to preserve Lebanon," Suleiman said.
Suleiman also called for forming a new cabinet as soon as possible. He called on the Lebanese people to "close ranks and show solidarity with the legitimate institutions and with the army which is the guarantor of unity and stability.".