Chatah's funeral: Siniora vows to liberate Lebanon from illegal arms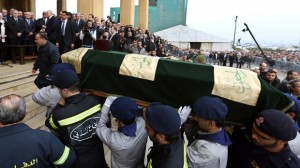 The slain former Lebanese Finance minister and senior diplomat Mohammad Chatah was laid to rest Sunday amid extraordinary security measures in Downtown Beirut during a funeral service in which March 14 alliance vowed to "liberate Lebanon from the illegal arms of Hezbollah".
The funeral was held in the center of Lebanon's capital at the Mohammad al-Amin Mosque, where Chatah and his bodyguard Tarek Bader were buried in a memorial site alongside Rafik Hariri, Lebanon's former premier who was assassinated by a car bomb on February 14, 2005.
Chatah, 62, a Sunni Muslim was killed by a car bomb in Beirut on Friday along with six other people as he was headed toward a March 14 meeting in Saad Hariri's residence. Dozens of other people were wounded in the blast, which officials said involved about 50-60 kilograms (110-132 pounds) of explosives.
No one has claimed responsibility for the attack, but March 14 implied Damascus and Hezbollah were behind it without naming them, saying in a statement that "the criminal is the same, he who is thirsty for the blood of Syrians… he and his Lebanese allies."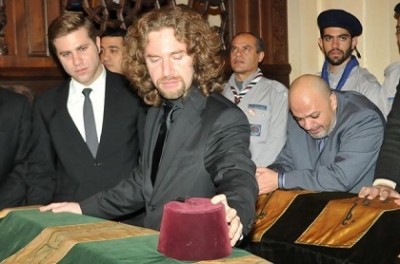 Syria has denied the "wrong and arbitrary accusations," while Hezbollah said the bombing was aimed at destroying "national unity".
Several political figures attended the funeral , including caretaker PM Najib Mikati, former PM and Future Movement parliamentary bloc leader MP Fouad Siniora, PM Designate Tammam Salam, Lebanese Forces leader Samir Geagea and several March 14 officials. Several other key figures continued to arrive at the Mohammed al-Amin Mosque in downtown Beirut to offer their condolences to Chatah's family.
President Michel Suleiman represented by Minister Ala'eddine Terro, bestowed upon Chaar the posthumous title of Commander of the National Order of the Cedar and declared Sunday a day of national mourning
Several army vehicles were stationed around Beirut's downtown area, where Chatah was killed.
Chatah had been a close confidant of Rafik Hariri and his son former PM Saad Hariri , who left Lebanon due to security concerns in the spring of 2011 after the Hezbollah backed March 8 coalition toppled his national unity government.
Siniora
Siniora struck a defiant tone during his eulogy for Chatah, saying that March 14 would not bow to those assassinating the pro-Western alliance's luminaries since 2005.
"We have decided to liberate Lebanon from the occupation of illegal weapons in order to protect its independence and consolidate its civil peace," Siniora said in reference to Hezbollah's mighty arsenal of weapons.
"We have decided to walk alongside the peace-loving Lebanese people, we have decided to embrace peaceful resistance," he added.
"They killed Shatah in broad daylight and in cold blood," he stated.
"The murderers are carrying out their crimes without anyone to stop them and believing that they can escape punishment," he added.
"The Lebanese people will not surrender and we will not fear the criminals, murderers, and terrorists," stressed Siniora.
"They instead should be afraid because they are murderers," he noted.
"They commit murders in order to assert their control over Lebanon, but we will renew our commitment to coexistence and civil peace," said the former prime minister.
"They continue their killing, while we commit to a free and democratic Lebanon that respects human rights, accepts the peaceful rotation of power, and respects the law and constitution," he stressed.
"They have become adept at murder and the destruction of people, the economy, and Lebanon's ties with other countries," continued Siniora.
"We will not be transformed into murderers and we will not destroy Lebanon as they do," he declared.
"Lebanon will remain an open ground for freedom, dialogue, and reconciliation, not that of strife and fighting," added the head of the former PM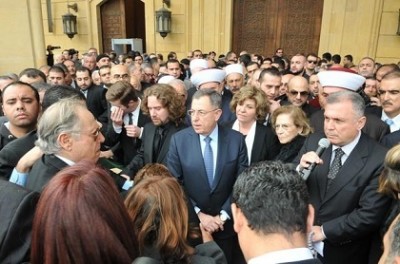 "We will remain committed to the national pact and coexistence. We will reject terrorism, extremism, and violence," he said.
"We will not back down from the rights of the martyrs no matter how arrogant and deceitful the murderers become," Siniora stressed
"We will confront the oppression as we demand freedom, justice, and righteousness," he said.
"We have decided to wage a peaceful, civilized, and democratic resistance," he added.
"The March 14 forces will meet up with the people soon at the squares of peaceful and democratic struggle," he revealed.
"We have decided to liberate Lebanon from the occupation of illegitimate arms in order to protect its independence and bolster its sovereignty and civil peace," he remarked.
"It is time to return to the fold of the nation and state," he added.
Funeral services
Funeral services were conducted by Sheikh Malek al-Shaar, the mufti of Chatah's hometown of Tripoli, who urged the country's leaders to form a cabinet after nine months of political deadlock.
"The new cabinet will achieve Lebanon's interests, freedom, sovereignty, and independence," said Shaar.
"The government will be formed soon God willing. It will be formed to contain the problems of the country," Shaar said.
Shaar said: "Justice and moderation will be victorious against those who practice terrorism and seek destruction."
"The other camp has sought destruction, murder, and the martyrdom of our men," he declared
"We will not steer off the path of those seeking to build a civilized state," he stressed .
"We will not adopt terrorist ideologies and we will stand against all forms of killing and destruction," he declared.
"The Lebanese will find out that moderation will reign over all and the country will never veer off this course," he said
Lebanese Grand Mufti Sheikh Mohammad Rashid Qabbani did not attend the funeral service, reinforcing the strong rift between Lebanon's top Sunni religious cleric and the country's most powerful Sunni political party, the Future Movement.
Dar al-Fatwa, the office of Qabbani, issued a statement saying that the mufti chose not to attend the funeral of Chatah as he objected to "mixing religion with politics."
Tension
The assassination comes amid a worsening political situation in Lebanon, which has seen the country's legislature extend its term in May after a failure to agree on a parliamentary electoral law while PM-designate Tammam Salam has been unable to form a new government almost nine months after his appointment.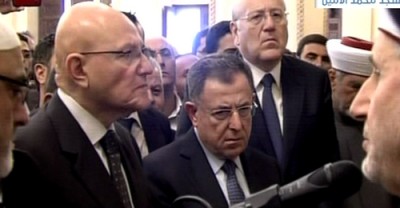 However, recent reports have indicated that President Michel Suleiman has been encouraging the formation of a neutral cabinet against the wishes of the Hezbollah -led March 8 coalition that rivals March 14 for power in the country.
Lebanon's constitution stipulates that the president and premier-designate can sign decrees approving a government, but the parliament holds final sway on its activation with a vote of confidence.
If a new cabinet did not receive a vote of confidence, it would replace Najib Miqati's current resigned government as the caretaker cabinet.
Hezbollah has warned that the formation of a fait accompli cabinet could cause strife in the country, which is already suffering from a worsening security situation that has seen a series of car bombs in recent months.
The Shiite party's deputy chief, Naim Qassem, earlier in the week called on Suleiman to "remain unbiased" and warned that a fait accompli cabinet would obstruct the upcoming presidential elections scheduled for May 2014.
Letter to the Iranian president
A week prior to his assassination Chatah, the former Lebanese finance minister , wrote an open letter to Iranian President Hassan Rouhani. Chatah was assassinated before he could gather signatures from members of the Lebanese parliament.