Dar al-Fatwa: Miqati, Siniora distorting Qabbani's image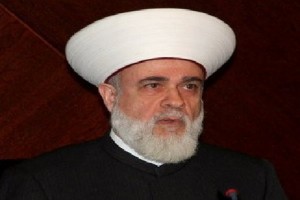 Lebanon's Dar al-Fatwa accused on Sunday caretaker PM Najib Mikati and former PM and Future Parliamentary bloc leader MP Fouad Siniora of distorting the image of Grand Mufti Mohammad Rashid Qabbani.
"Political forces, especially Najib Mikati and Fouad Siniora, are directly responsible for attempting to distort the Mufti's image through incitement campaigns which are misleading the people in order to accomplish their desire to control Dar al-Fatwa," the statement read.
Dar al-Fatwa added: "Mufti Qabbani will only grow more faithful and determined to do everything his religion and Islamic and national conscience tells him to do."
"He will consider what happened just another event that has no value and lacks morality and the ethics of Islam."
Meanwhile, Mikati strongly condemned the incident, voicing his hope that "it be an occasion for the Mufti to make a wise decision in order to preserve Dar al-Fatwa and the Sunni sect."
Mourners attending the funeral of a teen killed in Friday's Beirut car bombing reacted furiously when Lebanon's Grand Mufti attempted to enter the mosque in Beirut's Qasqas area where the ceremony was taking place.
Mohammad al-Chaar, a Lebanese teenager who was seen posing for a group photo with his friends in front of a bomb-laden car moments before it exploded, and killed former Finance Minister Mohammad Chatah died of his injuries in Beirut on Saturday.
Qabbani was trapped in the Al-Khasheqji Mosque by angry mourners during Chaar 's funeral , sparking a standoff before security forces escorted him out of the mosque amid a tense situation.
NOW