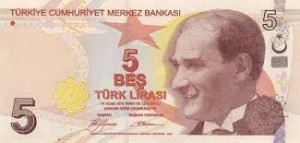 ANKARA: The Turkish lira hit a record low as Prime Minister Recep Tayyip Erdogan, embroiled in a major graft probe, faced new mass protests and growing calls to resign.
The currency fell to 2.1467 lira to the dollar while the Istanbul stock exchange, the BIST 100, dropped 3.76 percent around 0910 GMT Friday, after having dropped 2.33 percent Thursday and 4.2 percent Wednesday.
"The situation in Turkey is severe to say the least, not only because of the huge fall in the Turkish lira and the stock market but also because massive uncertainty has taken hold which is unlikely to subside in the near future," said Markus Huber, senior trader at London broker Peregrine and Black.
The plunge came as anti-government protests were planned in Ankara and Istanbul, raising fears of violence similar to that in June when mass demonstrations swept the country.
"The fire is big, beyond expectations and spreading quickly," wrote columnist Huseyin Gulerce in the Zaman daily affiliated with Fethullah Gulen, a US-based Turkish religious leader engaged in a power struggle with Erdogan.
Gulerce said the crisis that has shaken the government was no longer limited to a fight between Erdogan and Gulen followers but one now engulfing all state institutions.
"The cabinet reshuffle may contain the fire for now but it will not put it out," he wrote.
Erdogan overhauled his cabinet on Wednesday after three ministers quit over a graft scandal that had implicated their sons.
The Hurriyet daily said the widening corruption probe was now targeting 41 additional people including a Saudi businessman.
But a prosecutor involved in the probe said earlier that his office had come under pressure from Istanbul's chief prosecutor and police to block the case.
Erdogan alleges the graft probe was orchestrated by outside forces bent on smearing his administration and undermining the country's progress.
He has ordered the sacking of dozens of police officers believed linked to Gulen, who has lived in self-imposed exile in the US since 1999.
The cleric, once an Erdogan ally, is hugely influential in Turkey and his followers hold key positions in the judiciary and the police.
The corruption probe poses the greatest challenge to Erdogan in his 11 years in power and the biggest threat to his undeclared ambition to run for president in 2014.
Observers say the premier is increasingly struggling to hold on to power with his son the latest high-profile figure embroiled in the scandal.
Local media said investigators were looking at a charitable foundation connected to the premier's son Bilal.
The scandal has weighed down on the local currency and fueled anti-government sentiment brewing since the mass protests that engulfed the country in June.
"In order for the lira and Turkish stocks to end their harsh descent, decisive leadership will be needed and credible measures taken which will appease foreign investors and the Turkish population alike," said London trader Huber.
AN