EU condemns the terrorist attack in Lebanon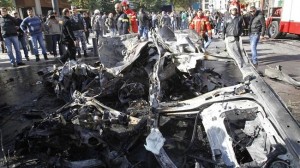 The European Union deplored the terrorist attack in Beirut Friday, which took the life of Dr. Mohamed Chatah, former Lebanese minister of finance, and at least seven others while injuring dozens.
"The spiral of violence in Lebanon is deeply worrying. I urge Lebanon's political leaders and the Lebanese people to put aside all differences and join forces – as a priority and without delay – to restore security in the country," said EU High Representative for Foreign Affairs and Security Policy Catherine Ashton in a statement tonight.
She also reiterated her call for forming a new government capable of addressing the many challenges Lebanon is facing. "The EU stands by the people of Lebanon and reaffirms its commitment to the unity, stability, independence, sovereignty and territorial integrity of Lebanon," she added.
Dr. Chatah died Friday near the Starco complex in downtown Beirut when a car bomb struck his convoy as he was heading to a March 14 meeting at Future Movement Saad Hariri's residence in Downtown Beirut to present a plan to save the city of Tripoli.
Cars were burned beyond recognition as a wall of flames and thick black smoke shot up from the blast site.
Chatah's bodyguard, Mohammed Badr, was among those killed.
No one has claimed responsibility for the attack but fingers were pointed at Hezbollah and Syria. Chatah a close advisor of Future Movement leader MP Saad Hariri was an outspoken critic of the Syrian regime and of Hezbollah.
Chatah's death comes 20 days before the U.N.-backed Special Tribunal for Lebanon begins the trial of five Hezbollah suspects over the 2005 assassination of former PM Rafik Hariri. Like Chatah, Hariri was also killed in a car bombing in downtown Beirut.
Former PM Saad Hariri condemned Chatah's assassination and drew a parallel between his murder and the murder of his dad Rafik :
"The criminals are the same ones behind former PM Rafik Hariri's assassination. The assailants seek to assassinate Lebanon and weaken the state." He said.
Earlier today Judge Saqr Saqr ordered the erection of a tent at the site of the downtown blast in order to determine the nature of the explosives used in the attack and the size of the crater it created.
Sqqr revealed later that the explosives of the car bomb weighed between 50 and 60 kg ( 110-132 )lbs