Syrian opposition ( SNC) rejects regime-Russia oil deal
The opposition Syrian National Coalition (SNC) rejected Thursday an oil and gas exploration deal Damascus signed the day before with a Russian company, linking it to arms deals.
"The Coalition condemns the signing of this deal, which aims to swap the riches of our homeland for Russian weapons destined to kill the Syrian people," a statement said.
Russia, one of President Bashar Assad's strongest international backers received its Christmas present from Syria on Wednesday.
Syria's state news agency reported that Syrian Oil Minister Suleiman Abbas and Syria's General Petroleum Company have signed a deal with Russian oil and gas company Soyuzneftegaz to explore in the Mediterranean Sea.
Most of Syria's oil and gas fields are in the north east of the country which is under opposition control and the country's oil exports almost have stopped.
The contract "is the first ever for oil and gas exploration in Syria's waters," head of the General Petroleum Company Ali Abbas told AFP.
The deal permits the exploration of an area of 2,190 square kilometres (850 square miles) in the Mediterranean.
"The Russian firm agreeing one of the most important contracts in the region with the criminal regime while fighting rages unabated is proof that the Russian government has signed a deal to send more arms to kill Syrians," SNC said.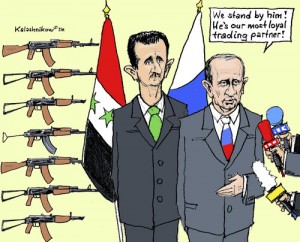 "The Russian government is an accomplice in the spilling of Syrian blood through its support for the Assad regime, the main source of international terrorism," the statement added.
Abbas said during Wednesday's signing ceremony that the contract covers "25 years, over several phases," adding that "the cost of exploration and discovery is $100 million (73 million euros)".
General Petroleum Co head Ali Abbas told AFP: "It will be financed by Russia, and should oil and gas be discovered in commercial quantities, Moscow will recover the exploration costs."
Hard-hit by international sanctions, Syria's oil production has plummeted by 90 percent since the start of the uprising against President Bashar al-Assad in March 2011.
The deal was reportedly worked out in August 012 during a visit to Russia by a Syrian delegation headed by Syrian Deputy Prime Minister for Economic Affairs Qadri Jamil. On August 3, 2012 Jamil also told reporters that an agreement had been reached for Syria to export crude to Russia in exchange for refined oil products.
But Jamil was dismissed last October for talking with the US
Syria is one of Russia's last Middle East footholds and hosts a base for the Russian navy on its coast. Russia has adamantly opposed any foreign intervention in the country, though Moscow says it is not tied to Assad.
Soyuzneftegaz is a Russian oil and gas company. It is headed by Russia's former energy minister Yuri Shafranik. The main shareholder is the Central Bank of Russia.
Photo: Syrian Oil Minister Suleiman Abbas and Syria's General Petroleum Company during the signing of a deal with Russian oil and gas company Soyuzneftegaz for offshore oil drilling, development and production in block no. 2 of Syria's territorial waters in the Mediterranean Sea. SANA
NOW/AFP