Turkey's PM says he is the target of the corruption probe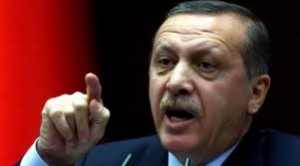 Turkey's prime minister says he believes he is the ultimate target of a corruption and bribery probe of his allies that has shaken the government.
Prime Minister Recep Tayyip Erdogan told a group of journalists that anyone attempting to enmesh him in the scandal would be "left empty handed." His comments were published in Hurriyet and Yeni Safak newspapers on Thursday.
Erdogan reshuffled his Cabinet on Wednesday, replacing 10 ministers hours after three ministers, whose sons were detained in relation to the probe, resigned. One of those ministers called on Erdogan to also step down.
The ministers' sons were questioned over the scandal focusing on alleged illicit money transfers to Iran and bribery for construction projects. Two of them were later arrested on bribery charges.
Investigation blocked
A Turkish prosecutor said on Thursday he had been prevented from expanding a corruption investigation that has touched the heart of the government, alleging pressure on the judiciary.
"All my colleagues and the public should be aware that I, as public prosecutor, have been prevented from launching an investigation," Muammer Akkas said in a statement.
Huffington Post/ AFP