Franjieh says he and Aoun are presidential candidiates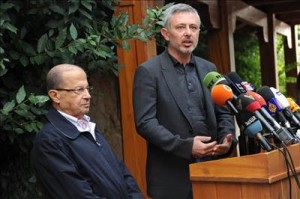 Marada movement leader MP Suleiman Franjieh revealed on Thursday that both and Free Patriotic Movement chief MP Michel Aoun are candidates for the presidency and urged the Hezbollah-led March 8 alliance to pick one of them as the candidate of the coalition .
In an interview with Hezbollah's al-Manar TV Franjieh vowed on Thursday not to extend President Michel Suleiman's term :
"I will not back the extension of President Michel Suleiman's mandate no matter what my allies did."Franjieh a key ally of Hezbollah and a staunch supporter of Syrian president Bashar al Assad said.
Franjieh accused the president of being biased and part of the conflict between the March 8 and 14 alliances." He is not a centrist", he said.
The MP warned that the president was throwing the country into an abyss.
Commenting on the reports that President Michel Suleiman and PM designate Tammam Salam are working on forming a neutral cabinet Franjieh said:
"Formation of fait acompli cabinet will endanger Lebanon "
"Any cabinet that strikes the plans of the resistance or the Taef Accord would lead to a problem," Franjieh warned.
"Alarms will sound in the event a government is formed the wrong way, in other words a neutral government. At that point we will head towards the unknown," he added
His remarks came amid a similar warning made by Hezbollah 's number 2 deputy chief Sheikh Naim Qassem on Thursday after Suleiman hinted that he would form a fait accompli cabinet over the failure of the rivals to reach an agreement.
Qassem lashed out at proposals to form a neutral cabinet, saying such a government would spread "chaos, danger and complications."
Hezbollah is calling for the formation of an all-embracing cabinet in which the March 8 and 14 alliances would get nine ministers each and centrists six.
But March 14 is rejecting such a formula, calling for a neutral cabinet.
Suleiman on Wednesday said that a new cabinet must be formed by March 25, the constitutionally mandated beginning of the presidential election period.
"It is necessary to form a government… March 25 is a red line," he said in a press conference following his closed door meeting in Bkirki with Maronite Patriarch Bechara Boutros al-Rai.
He added that time is running out for the formation of a new government ahead of staging the presidential elections.
"I will seek Lebanon's interest," Suleiman said in response to a reporter on what measures he may take should the constitutional period end amid the political powers' failure to form a new cabinet.
"We must form a new government and come up with a ministerial statement, both of which need at least a month of work," he warned.
He also questioned the Hezbollah-led March 8 alliance's call for a political cabinet, asking, "Are politicians the ones who bring together the nation?"
"Why is it said that a political cabinet is an inclusive one"?
He added: "What is the definition of an all-inclusive government?"
"We have a democracy and a constitution. They alone determine Lebanon's political fate," stressed the president.
No one has yet officially announced his candidacy for president . Suleiman's six-year tenure ends in May 2014 and he repeatedly stated that he is against the extension of his term.
Aoun's candidacy
In the midst of the talk about the lack of March 8 enthusiasm for the nomination of Aoun to the the presidency, Hezbollah bloc MP Walid Succarieh was quoted as saying last Thursday " our only condition is that there must be consensus around the candidate and if there is consensus around Aoun's nomination then the party will not oppose it ."
During a radio interview he said: "We are not against Aoun's candidacy if there is consensus around him."
According to analysts if Hezbollah is not enthusiastic about its number one Christian ally's nomination then Aoun has absolutely no chance to be considered as a serious candidate.
Asked about his plans for the presidential election Aoun said earlier in December during an interview with MTV :
"We have not consulted with out allies and with Hezbollah over the issue of nominations for the presidency and it's still early for me to discuss this issue and no one has told me that I'm a candidate."
Aoun said if elected as next president he will allow Hezbollah to keep its resistance arms until a solution for the Middle East is reached.