Syrian artists mark Christmas with black humor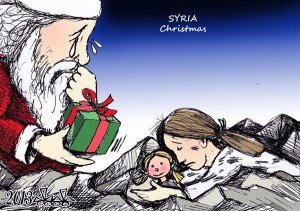 Syrian artists have turned to black humor to depict the brutal war devastating their country as they marked on Wednesday the third Christmas since the deadly conflict erupted.
Their works posted on the Internet reflect the tragedy that has struck Syria where violence has  killed more than 126,000 people and forced millions to flee.
One of the most poignant illustrations by graphic designer Sedki al-Imam shows Santa Claus riding his sleigh through a starry, deep blue sky but instead of reindeer it is being pulled by warplanes.
And rather than shower the earth with gifts, Imam's Santa drops TNT-packed barrel bombs over Syria.
The drawing comes as more than 400 people, including 117 children, have been killed in a 10-day air offensive. including the dropping of barrel bombs, by Syria's regime against rebel-held areas of Aleppo — Imam's hometown in northern Syria.
Another drawing by graphic designer Wissam al-Jazairi shows a brightly-colored Santa Claus slumped in front of rows of tombstones at a snow-filled cemetery.
Santa is sad because he has cannot visit children to give them Christmas gifts and a caption below the drawing reads poignantly: "Santa Claus and the children of Syria."
In another illustration signed A. Wardeh, towers of black smoke can be seen rising in the shape of a massive black Christmas tree, above crowds gathering in a destroyed city.
Above the clouds is a little star, and nearby a tiny warplane.
A bleak message reads: "Bashar al-Assad wishes you a merry Christmas!"
But not all was gloom and doom, and cartoonist Juan Zero found a simple way to illustrate hope in dark times.
He sketched and shared bright yellow smiley faces standing out against the background of a black Christmas tree.
Other Syrians shared online music, including a new version of the popular Jingle Bells reworked to the tune of: "Christmas eve, Christmas eve, people fear the sound of bullets from afar."
But the song quickly turns into a revolutionary hymn: "Freedom is right behind the door, we will have a tree in the house, planted by the revolutionaries… We want freedom and a new regime."
The creator of the song, an activist from Hama named Anas Mushmush who went by the name of Mowgli, had died in detention.
NOW/AFP