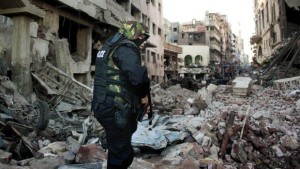 Egyptian security officials have arrested a Muslim Brotherhood member suspected of involvement in the bombing of a police station in Mansoura, officials said.
The suspect was arrested by Egyptian security forces at Cairo Airport today, a day after 15 police and civilians were killed in a bomb attack on a police station at Mansoura in the Nile Delta, north of Cairo.
Egyptian security officials said police are examining a laptop and mobile phones the suspect had in his possession when he was arrested, the radio said. The suspect was thought to have been attempting to flee to Turkey when he was detained.
Egyptian security officials were investigating whether other suspects fled to the Sinai, Israel Radio reported.
Prime Minister Hazem el-Beblawi declared the Muslim Brotherhood a terrorist organization shortly after Tuesday's bombing.
The Muslim Brotherhood released a statement condemning the attack and demanding an investigation "so that the perpetrators of this crime may be brought to justice."
UPI
Photo:An Egyptian policeman stands guard at the scene of an explosion at a police headquarters building that killed at least 15 people, wounded more than 100, and left scores buried under the rubble, in the Nile Delta city of Mansoura, 70 miles north of Cairo, Egypt, Tuesday, December 24, 2013. (AP Photo/Ahmed Ashraf)
This error message is only visible to WordPress admins
Error: No connected account.
Please go to the Instagram Feed settings page to connect an account.