Lebanon Patriarch equates selling land to crime, treason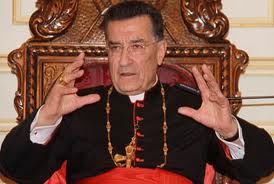 During his traditional Christmas message Maronite Patriarch Beshara al-Rai warned the Lebanese on Tuesday against selling their lands in Lebanon and stressed it was tantamount to committing a "crime" and "treason".
"Our land is the land of coexistence … It gave us our identity," al-Rai said in his message on Christmas eve.
"We should preserve our land and leave it as a legacy for others," he said. "Selling it or plotting against our land is a crime and treason for the (Lebanese) identity and history."
"Peace building in Lebanese territories and the Orient is our responsibility," he said.
"Our land is priceless … We preserve it for being sacred … We reject to turn it into the land of hatred and killing," al-Rai stressed.
"The church rejects that any Lebanese sells his land. We help him through our institutions to invest  in his land and live from it," he said.
Al-Rai urged big landlords to preserve their lands to protect their historic identity and invest their money in development of projects that can contribute to the country's economy and the people's livelihoods.
The patriarch also urged the authorities to control the sale of land owned by the Lebanese to foreigners.
Addressing Lebanon's political crisis and the government deadlock, al-Rai said the officials should form a constitutional cabinet capable of guaranteeing the real peace, which he said is based on honesty between the rival parties.
Al-Rai also called for controlling illegitimate weapons and suppressing assaults on the Lebanese.
Addressing the issue of presidential elections , the patriarch said the president should have a clear agenda for a capable centralized state with a wide range of decentralization and resolve the gaps in the post of the presidency.
The new head of state should bring the views of the rival parties closer, revive loyalty to Lebanon and distance it from regional conflicts, he stressed
Addressing the kidnapped bishops and nuns in Syria, the patriarch said: "You are our Eid and Christmas … Don't be afraid. We are proud of your Jihad."
The patriarch urged the warring parties in Syria to reach comprehensive peace, warning that the fire could spread quickly and burn the entire region.
Hezbollah has reportedly been buying large amounts of land in southern Lebanon as part of a huge reconstruction program it calls the "Building Jihad. The initiative is thought to be funded by Iran .
Hezbollah is a Shiite militant organization backed by Iran .
Ali Tajeddine, a Shiite construction tycoon and former Sierra Leone diamond trader, has reportedly been buying the tracts of land surrounding Hezbollah's stronghold in Christian dominated areas. Several villages that were once inhabited by Christians, are reportedly now owned by Tajeddine and populated by Shiites. It is according to observers part of Hezbollah's plan to create a state within a state.